DDM Press Roller & Slitting & Cutting Machine
Slits and cuts continuously press-rolled noodle sheets to produce noodle strings.
Extensive lineup:Able to accommodate noodle sheet widths from 215 mm to 600 mm.
(We have installed machines handling widths up to 900 mm and are ready to supply machines up to such width.)
• 2 types (for raw noodles / boiled noodles)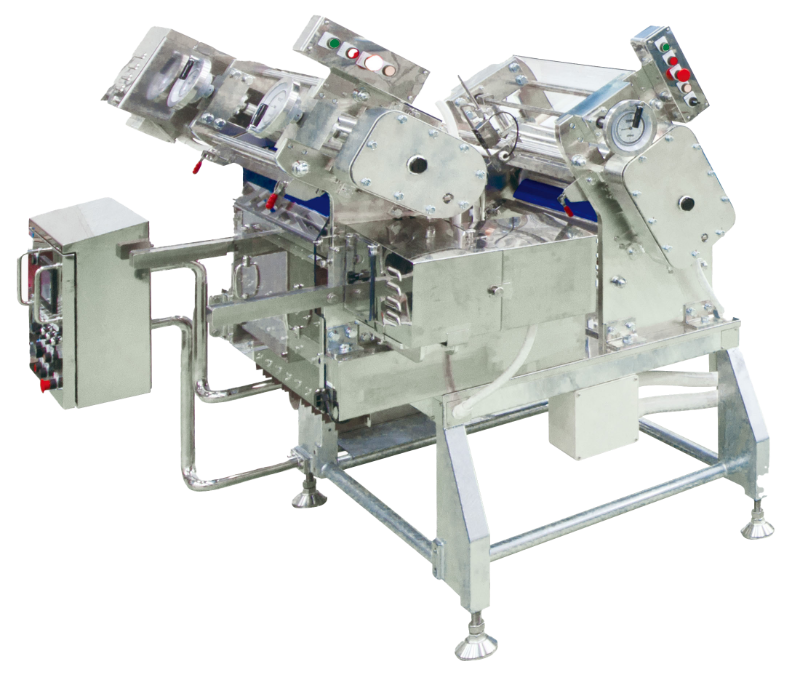 Main Features
Provides a quiet production environment

Using DDM (direct drive motor) system, the rotary shafts of the rolls and slitters are directly connected to motors in tubular shafts.
Not using chains for drive achieves quiet production with no torque loss.

No gear wear

The engaging gears of the male and female rolls are in sealed Oil-bath Gear Box.
There is no need to grease them, and there is no concern about erosion of teeth or powder from abrasion.

Change slitters without getting your hands dirty!

The coupling system makes it easy to replace slitters. Hands and clothes do not get dirty with oil.

Improved finishing accuracy!

Digital dial meters are fitted to improve the finishing accuracy for noodle sheet thickness.
Options
Wave conveyor

This makes wrinkled noodles.

Noodle sheet width-halving function

A process that halves the width of the noodle sheet before hitting the slitters. The slitters (two) are short, so the slitting operation of producing noodle strings is easier.

Automatic noodle string apportioning function (raw noodles)

A function that spreads out raw noodles to the width of the boiling tank. This is appropriate for operations where the boiling tank is wider than the press roller & slitting & cutting machine.

Noodle Drop Position Adjustable type (boiled noodles)

In cases where different boiling times are necessary, noodles are moved on transfer rails

Noodle strings length setting function (boiled noodles)

Cuts noodle strings to a constant length by encoder control.
Product Specifications
Model
DDN NMK
Roll diameter: 150 mm / 120 mm
Roll width
215mm/230mm/300mm
360mm/450mm/600mm
Roll shape
Flat roll
Slitter unit
Aluminum frame containing bearings
Cutter section
Servo motor (rotating blades)