Compound Noodle Pressing Machine
Two noodle sheets are made out of primary noodle dough, and compounded into one optimum noodle sheet.
DDM (Direct Drive Motor) Compound Noodle Pressing Machine is also available as a step-up option. DDM enables non-use of Chain and Lubricating Grease for full hygiene.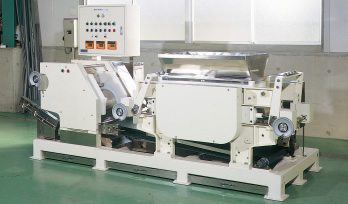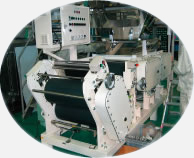 Main Features
(1)Digital Display ensures precise-checking of noodle sheet thickness.

(2)Inverter-controlled 2-motor drive allows adjustment to any noodle pressing speed as required.

(3)Loading process has 2-mode selection.

a. Sincronization to roll rotation. (for Thin Noodle Sheet)
b. Loading at a given interval while rolls are stopping (for Thick Noodle Sheet)

(4)Sensor detects slack of noodle sheet between rolls, and adjust it automatically.

(5)Sliding Tray enables easy recovery of leavings of primary noodle dough and noodle sheet residue.

(6)Stainless Outside-cover allows easy cleaning for full hygiene.
Product Specifications
| | |
| --- | --- |
| Model | CPR-3024/CRP-3030 |
| Roller width | 230・300・360・450mm |
| Roller types | Corrugated roller flat roller |
External Dimensional Diagram