Founding and Before (1960 onwards)
First in the world to develop the technology that unlocks the practical application of electrical discharge machines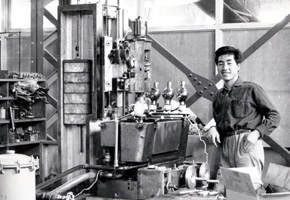 Immersed in his experiments
(Toshihiko Furukawa around mid-1960)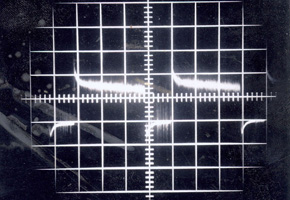 The discharge waveform of the non-
consumable electrode circuit discovered by
Toshihiko Furukawa
(reverse polarity, long-pulse)

During World War II, the Lazarenkos, a husband and wife team of scientists in the former Soviet Union, first discovered electrical discharge machining, which made it possible to machine very hard metals and to produce complex machined shapes in ways not possible using conventional cutting tools. In post-war Japan too, manufacturers awaited the practical application of this technology.
In the late 40s and early 50s, it became possible to manufacture EDMs in Japan, but the technology was still beset by a range of problems. Machining was very slow and the finishing very coarse. The high level of wear and tear on the electrodes meant that faster machining speeds could not be achieved and the only practical application for machines was to drill holes in very hard metals.

Around 1960, Sodick founder Toshihiko Furukawa, then a young man in his 20s, was working for a domestic machine tool manufacturer in Tokyo (the former Japax, Inc.) while also studying electrical theory at university in the hope of finding a way to overcome the technological issues with EDMs. It was a very busy time for him, spending day after day on repeated experiments.
In 1963, his hard work led to the discovery of the "Non-Consumable Electrode Circuits*1", the principle of which was described in his thesis. Due to the fact that electrical discharge machining research in Japan was in its infancy at the time, Furukawa's discovery was not widely recognized. But, rather than being discouraged, he returned to his research, and as a result successfully developed the world's first "non-consumable electrode transistor power supply".

Subsequently, he went on to develop the "Loran machining method*2", which allows the sides of a workpiece to be very accurately machined to the desired measurements. The extreme difficulty of development process meant that it took 5 or 6 years to complete, but Furukawa, knowing how difficult the practical application of EDMs would be without this technology, persisted with his research until he finally succeeded in developing the new method.

These discoveries and developments, by resolving the problems with machining accuracy and with the finished surface, paved the way for the rapid uptake of EDMs and revolutionized the world of metal machining.
*1 "Non-Consumable Electrode Circuits": An electrical discharge machining circuit in which the electrode is not consumed. *2 "Loran machining method": An electrical discharge machining method in which the workpiece surface is finished by moving the downward-pointing electrode back and forth and from side to side very precisely to achieve concurrent surface finishing along both axes.
Visit this page for more details of this technology.