History of Sodick
Part 4: Tackling Nano for a Brighter Future
Entered the Food Machine Industry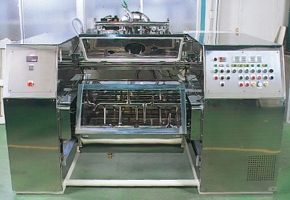 Noodle Making Machine — Vacuum Mixer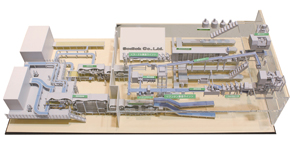 Model of an actual noodle production line
Sodick entered the food machine industry in 2007, concentrating on noodle-making machines. Noodle-making machines' field has recently expanded to encompass frozen noodles and cooked noodles for sale in convenience stores, from the conventional market for commercial products. Currently, Sodick offers a wide range of high-quality noodle-making products. As noodles vary according to the season and palatability, noodle-making machines must support various types of noodles and production volumes.
For example, we currently offer noodle-making machines that allow the production on the same shared production line of udon and soba noodles, which have different boiling times and production volumes. In particular, the CIP automatic cleaning function in the boiling tank and washing tank minimize ingress of foreign matter during the noodle production stage, which restricts bacteria and extends the use-by date. It has proven very popular for the production of noodles.
Sodick also offers a "heat recovery function" that reuses the waste heat from the discarded boiling water and the "vessel base heating function" that improves the efficiency of heat transfer. Both of these functions are used in numerous noodle production lines to save energy and improve ease of maintenance.

Sodick has developed a unique product called Mazaru which adds a liquid to containers containing one portion of noodles and then repeatedly rotates and orbits multiple containers to automatically and continuously untangle the noodles. This product has already been delivered to many customers. Non-contact magnetic bearings manufactured by Sodick are used in the shafts that rotate the containers to enhance safety and durability.
In 2012, we were the first in Japan to receive accreditation for food machines under the international standards of the ISO 22000 Food Safety Management System in order to continue to develop and supply high-quality and highly safe products.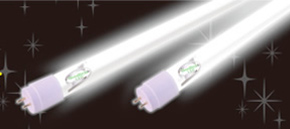 SL Series LED Lights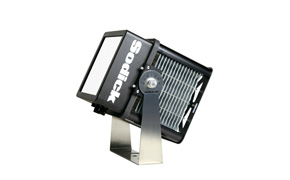 PIKA Series LED Floodlights
Sodick established Sodick LED Co., Ltd. in July 2010 to enter the field of LEDs, which are expected to reduce the energy consumption of lighting. Of course, technologies cultivated by Sodick are applied to LEDs. We applied novel discharge pulse control to develop the FTAC circuit as an LED power supply. Sodick developed SL Series LED lights that are brighter than fluorescents, have ultra-long life and 60% energy savings, and are easily installed without the work required to install fluorescent lights. SL Series products are being used in workplaces around Japan.

In July 2013, we subsequently developed the PIKA Series high-intensity, single-source LED floodlights. This floodlight is a next-generation high-intensity LED product that achieves equal or greater brightness to floodlights using conventional mercury lamps with approximately one-quarter the power consumption. The product line-up is currently being expanded.
PIKA floodlights are being used for floodlighting in locations such as sports arenas and car parks all around Japan.