History of Sodick
Part 2: Rapid Growth Phase to Overseas Expansion Phase
Introduction of FMS in the Kaga Plant and Ceramic Developed and Manufactured by Sodick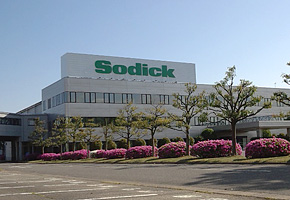 Kaga Plant (Kaga Office)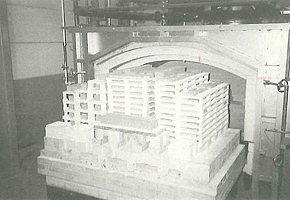 Ceramics kiln at Kaga Plant
In March 1987, Sodick introduced the Kaga Plant (Kaga Office), its second production facility, with FMS (Flexible Manufacturing System) that is able to automate its production of EDMs.

At this Kaga Plant, manufacturing lines and the warehouse were directly linked in a fully automated system and Sodick operated an advanced production system that used computers to enable the automatic production of the number of units set out in the production plan. In this way, consistency both in the number of products and in the product quality even with a small number of employees could be ensured at the plant.

At the time the Sodick development staff were also convinced that, to improve machining performance in wire-cut EDM, ceramic was the ideal material to use in the base supporting the wire electrodes and workpiece due to its high insulation value, minimal temperature-induced distortion, and high strength. However, because there was no company able to manufacture ceramics for electrical discharge machines, Sodick needed to undertake the development and manufacturing itself.
By developing and manufacturing ceramics in-house at the Kaga Plant, Sodick successfully achieved substantial improvements in machining performance using wire-cut EDM.
The A Series wire-cut EDM, which made extensive use of ceramics, received the Good Design Award and became a top-selling product, with total sales reaching 6,000 units.