History of Sodick
Part 3: Technological Innovation / Enhancement Phase
Entering the Injection Molding Machine Field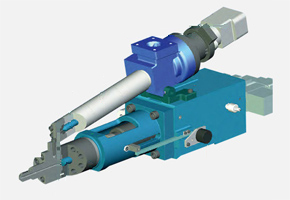 The Sodick-developed V-LINE plasticization
and injection method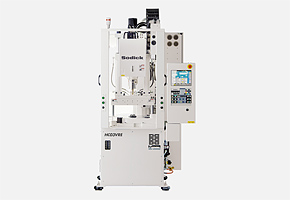 The HC03VRE ultra-high cycle,
ultra-compact, ultra-stable
Injection Molding Machine「HC03VRE」
Even as Sodick entered overseas markets, the Company was also undertaking new challenges when it came to products.
In October 1989, Sodick announced it was entering the injection molding machine business.
The decision arose from discussions with customers who had mentioned that despite being able to create precision molds from Sodick-made electric discharging machines, their output remained unstable owing to unexpected molding defects cropping up with the Injection Molding Machines (IMMs) then on the market.

An investigation of existing IMMs showed that improvements were needed for the process in which plastic materials were stabilized and melted, followed by the required volume of resin being precisely measured and injected into the mold.
Our Company came to realize that the average IMM, using what is referred to as the in-line method, was unstable in light of the extremely delicate balance among the various processes comprising it.
Accordingly, to screen out these destabilizing factors in the molding, Sodick decided to employ a new configuration. A new configuration allows dissolving of the materials done separately from injecting the resin into the mold.
Then Sodick built an IMM plant the following month on the grounds of the Kaga Plant.
Here, it would develop the V-LINE Method*, the Company's name for its stable plasticization and injection process. *"V-LINE" is a registered Sodick trademark.
Subsequently, in July 1992 the IMM Division was spun off to create a new enterprise, Sodick Plustech Co., Ltd.
It took five years to develop IMMs based on this new configuration. Moreover, selling them was difficult at first due to a lack of product visibility.
However, word got around from customers who were developing new products with more complex and lighter components that using the Company's IMM enabled them to produce their goods exactly as they had been designed.
Sales gradually began to rise as a result. Sodick at this time had already begun think about how to apply the technologies it had developed for manufacturing electric discharge machines (EDM) to machinery in other fields. In light of this, developing these new IMMs presented the Company with a further chance for growth.

Sodick Plustech worked thusly to build up its customers' trust, and in August 2001 became the first Sodick subsidiary to be listed on a stock exchange. The successes it achieved in the existing IMM market were such that its market share rode up on those of the larger players in the field.
(In 2012, the Plustech subsidiary was reabsorbed by Sodick in a move to maintain and boost Group competitiveness.)
Currently, IMMs account for about 20% of Sodick's sales and are one of the Company's mainstay products.