History of Sodick
Part 4: Tackling Nano for a Brighter Future
Development of Wire Electrodes and Introduction of Wire Recycling System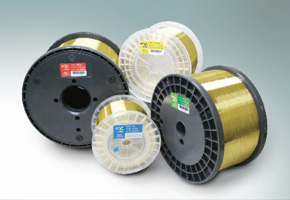 eWire R wire electrode, compatible with
the wire recycling system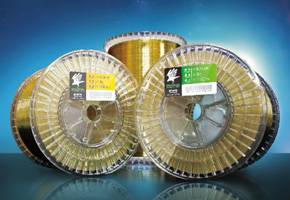 HAYABUSA ultrafast wire electrode dedicated
to wire-cut electrical discharge machine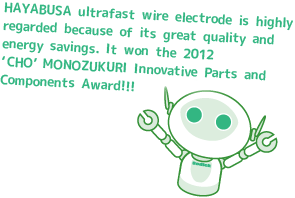 In an effort to develop the consumables for use in its products, Sodick is also developing wire electrodes.
As wire electrodes play an extremely important role in determining the performance of wire-cut electrical discharge machines, maintaining their quality was a critical topic we faced.

Sodick EWS Co. Ltd. (currently EWS Division of Sodick F.T) was established in November of 2005 to handle the development, manufacturing, and marketing of wire electrodes. Construction of their Miyazaki Plant was completed the following October.
This is the only dedicated wire electrode factory in Japan that can handle all processes from blending and melting the raw materials to producing the final products.

They began the wire recycling system in January, 2007. Used wire electrodes are recovered from the customers in exchange for new wire electrodes or other consumables, according to the weight recovered. The used wire electrodes are then melted into raw material to create new wire electrodes that are indistinguishable from new ones. This is the first such recycling system in the world. This system is extremely popular for cutting customers' costs and for effective resource management, and demand for it is growing.

In March 2012 the accumulated mass of wire electrodes manufactured exceeded 10,000 tons. In November of the same year, Sodick developed HAYABUSA wire electrode to increase the cutting rate and improve the surface finish.
The No. 3 Plant was completed in December of that year.
Our total production capacity is 300 tons per month, some of which is exported.