History of Sodick
Part 2: Rapid Growth Phase to Overseas Expansion Phase
Sales Growth in Europe and North America


Sodick Deutschland GmbH (Germany)
Sodi-tech EDM (UK)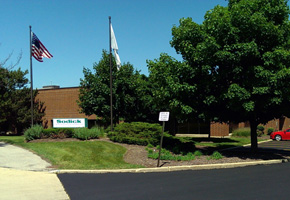 Sodick, inc.(U.S.)
Sodick has been attempting to establish a sales presence in Europe since shortly after it was established.
Originally, Europe is a region where car manufacturers are scattered across a number of regions. Naturally, demand for electrical discharge machines was highest among them but at the same time, the Swiss EDM manufacturers already held the vast majority of market share.
While it was assumed that expanding into regions already held by competing manufacturers would be very difficult, it was also seen as essential that the expansion be matched to the global strategy of Japan's car manufacturers. Doing so would give Sodick the capacity to absorb downturns in regions where it had already developed a market.

To tackle this challenge, Sodick began in 1979 by exhibiting at the 3rd EMO show, an international trade show devoted to machine tools. At the trade show Sodick displayed the world's first NC electrical discharge machine with automatic electrode replacement and in fact, it caught the attention of numerous dealerships and successfully attracted European dealerships.
Subsequently, Sodick Europe was established in Germany in 1983 as the company's first European sales office.
Sodick has now built up a sales and service network with close ties to the region, including sales offices in the UK and Germany along with some 20 dealerships.

Meanwhile, Sodick's entry into the European market was preceded by its expansion into North America.
It began with talk of a sales agent deal for Sodick products with UTI, then the parent company of Electro Tools, Inc. of Chicago with whom there had been contacts since before Sodick was founded.
The joint company that was then set up with UTI exhibited at the International Manufacturing Technology Show (IMTS) held in Chicago in 1980. As in Europe, sales offices were established and Sodick set up agencies in states all over the U.S.
Sodick is currently working to build a broader sales network with channels that extend beyond the U.S. into the whole of North America and Central America.


In the second interview, we talked about the rapid growth phase up to and including Sodick's overseas expansion phase.
My impression was of someone whose decisions and motivation to always have future development in mind come from an awareness that time is catching up with him.
Even in situations where there wasn't much understanding about new technologies, he always saw the situation for what it really was, made concessions, but in the end worked to build relationships of absolute trust. In this way, he persevered to achieve overseas expansion.
When he says that overseas expansion is "to understand the needs of all our users", he's highlighting an important basis for the ongoing future development of manufacturing in Japan.