History of Sodick
Part 3: Technological Innovation / Enhancement Phase
Entering the Machining Center (MC) Business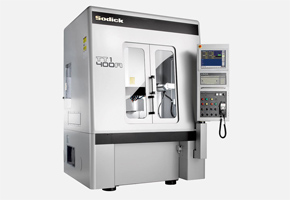 The TT1-400A
Ultra High Speed Machining Center
featuring the use of Sodick-developed CFRP

Sodick's history with cutting-related machining equipment goes back to the 1980s, starting with the A3CR NC unit-equipped electrode machine with electrode rotation and divider capabilities. In 1988, the Company developed its GT series of NC unit-equipped graphite machines.
However, its first full-on machining centers (MCs) did not come on the scene until 1997 with the release of the ceramic spindle-equipped 450MC, 600MC, and 800MC. They are unique machines that were developed in-house to be used as an electrical discharge machine component. The machines employed a strong ceramic for thermal displacement in their main spindles, and could be used for machining both molds and parts.
Its performance led to Sodick combining it with the linear motor technology developed in 1998, resulting in the 2001 launch of the MC180L. This MC laid the foundations for the HS series of high-speed milling centers.
"High-speed milling center" is the collective designation used at Sodick for its linear motor drive-equipped compact vertical machining centers, meant to differentiate from the linear motor-driven high-speed capabilities that other companies offer. The model rolled out in 2007 with a 420-mm X-stroke was designated the HS430L, while its companion with a 620-mm X-stroke was tagged the HS650L.
The Company now has a quarter-century of tradition in cutting-related machining equipment that has earned rave reviews from its customers.

The shallow-cut, high-speed feed machining process employed by the high-speed milling center has also drawn attention as a next-generation machining method that can reduce heat effects and curb tool wear. The lack of protruding quadrants that the unique features of a linear motor driven differently from a ball screw also made it possible to machine smooth surfaces without polishing. Furthermore, in mold machining it became possible to achieve direct carving to machine molds using a direct metal cutting process down to an ultra-fine level that had not been possible with existing equipment. This greatly reduced for making molds.

Today, Sodick continues to develop new products in the pursuit of even greater precision and higher machining speeds by using its self-developed next-generation material carbon fiber reinforced plastics (CFRP) and for ultra-high speed processing its lighter, ultra-thin XY tables.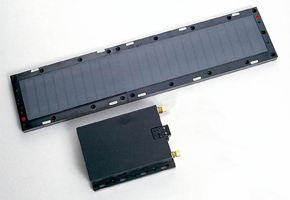 Linear motor developed and manufactured by Sodick

Even today, machine tools still generally use the ball screw-drive method in their feed mechanism. However, in response to customer desires to have machinery that could make their products the way they imagined them rapidly, precisely, and without any backlash, Sodick pioneered the development of electric discharge machines (EDMs) equipped with linear motors that offer superior transition speeds and positioning precision.
Concentrating more on how quickly the relevant mechanisms can cover one micrometer rather than how many meters they can be moved as quickly as possible, Sodick spent three years to develop and then successfully bring to market the world's first all-axis linear motor drive-based die-sinker EDM.

In November 1998, the Company began sales of the AM series, the world's first linear motor-equipped, high-speed NC-based die-sinker EDM. The Company took on numerous technological challenges to successfully develop a variety of core technologies, including the linear motor units it developed and produced in-house using a pinpoint cooling method, as well as the main spindle configuration based on the indispensable, Sodick-developed-and-made ceramics that is necessary for stable electrical discharge machining. The die-sinker EDM that resulted offered overwhelming performance, capable of moving as little as 0.1 μm, accelerating up to 1.2G, and traveling as fast as 36 meters per minute.
Linear motor drive-based EDMs worked at high-acceleration jump speeds as much as 24 times as fast as existing ball screw drive models (Sodick comparison). That performance made an impression so strong as to overturn what was then conventional wisdom, and droves of customers regularly came to check the equipment out when the Company put it on display at exhibitions.

Sodick's linear motor-equipped die-sinker EDMs achieved a broad range of machining performance that had once been impossible, offering both high speed and precision. They swiftly became widely known. The AQ series that came to market in January 2000 won numerous awards and great acclaim.
To date, the elemental technology of the Sodick-developed linear motor is used in all of the Company's flagship projects, including its EDMs and MCs, and Sodick continues striving for even better performance.