History of Sodick
Part 4: Tackling Nano for a Brighter Future
Development of Nano Machines
To best exploit the assets of the fundamental technologies owned by the Sodick Group, after the machining center (MC) business got on track, Sodick announced entry into the nano-technology business as a new development project.

Sodick began the development of nano machines after suggestions from customers that we could fuse the linear motor technologies and ceramic materials that we manufacture with the latest motion technologies and Sodick numerical control units to create machines able to offer both high machining speeds and precision machining in the nano-region.

As a result, we developed the NANO-100 world-class nano machines in December 2001. The NANO-100 allows table movements in 1 nanometer units (1 nanometer is 1 billionth of a meter). It features high-rigidity air hydrostatic bearings made of ceramics and 5-axis control that permits complex motions. With this, machining performance for the machining of high-grade 3D shapes in the single nanometer region was achieved.

Subsequently, the AZ150L nano-machining center developed in November 2005 accomplished high-speed and high-response table drive at 3 nm position detection minimum resolution (= minimum drive units). A world's first unique damping mechanism was adopted to minimize vibrations across ultra-small distances and achieve agile movement characteristics. The 120,000 min-1 high-speed main spindle with a built-in holder mechanism that uses an automatic shrink-fit system achieves excellent performance for the machining of molds and components for optical lenses and LEDs.
Then, in November 2008, the AZ250L was developed by reconfiguring Sodick elemental technologies.
The AZ250L supports fundamental technologies for the next-generation ultra-precise/ultra-fine manufacturing that is demanded in the optoelectronics, medical, and biotechnology fields.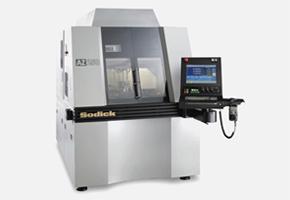 AZ250 Nano Machining Center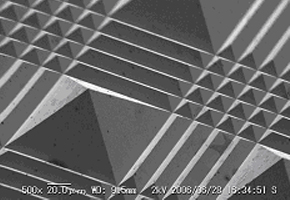 Example of Machining Ultra micro Square
Pyramids: large 80 μm, small 15 μm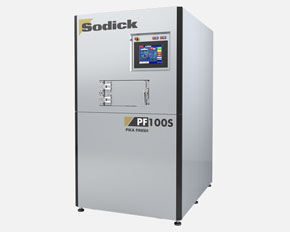 PF100S Electron Beam PIKA FINISH EBM

The Electron Beam PIKA FINISH EBM was developed in September 2003. This machine performs electron beam irradiation for an extremely short time over a wide area to improve the surface quality and functionality of target materials including die steel, titanium steel, ceramics, and acrylic resins.

Since electron beam machining (EBM) only modifies a 5 μm layer on the surface of the workpiece, the machine can achieve an extremely smooth surface finish without degrading the pre-EBM precision. By correcting minute chips, cracks, and scratches, it can achieve more stable product quality of molded products and enhance the durability of the molds to reduce the maintenance burden.

The latest model PF100S is a novel finishing technology that is achieving good results in a wide range of fields.
CAD‒CAM (computer aided design - computer aided manufacture) is indispensable for making molds with wire-cut electrical discharge machines. Here too, Sodick jointly promoted this business with mold manufacturers.
Over many years, Sodick has investigated the ideal CAD-CAM system for mold design and manufacturing facilities. By focusing on requirements before use, we make unremitting efforts to reduce lead times.
The result is the DiPro Series that supports all kinds of situations in the manufacturing plant.
The DiPro Series is a mold-making system that links mold design and manufacture.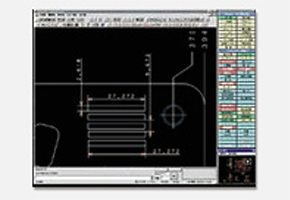 DiProWIN, a 2D CAD-CAM system for the design and manufacture of molds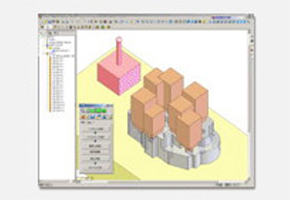 DiproSOLID Die-Sinker Electrical Discharge CAM. a die-sinker electrical discharge system for 3D solids