Genesis (1976 onwards)
The founding of Sodick and the development of the world's first NC EDM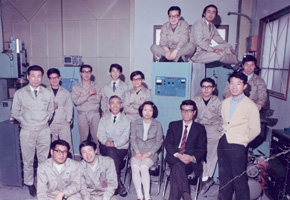 Workers at the Sodick predecessor, MEP



The downturn caused by the oil shock coupled with his differences with the direction of the company's technological development convinced Furukawa to go out on his own, and in August 1976, he founded Sodick Co., Ltd in Midori Ward, Yokohama City. Sodick started with 24 employees.
Shortly after that, a sales office in Osaka was opened. Later, Furukawa expanded his operations until he had established branches and sales offices all over Japan.

At the time, the mainstream EDM market was transitioning from simply drilling holes to 3-dimensional (3D) machining.
3D machining requires more complex machining than simply drilling holes, and this placed a higher workload on the machinist. Consequently, there was a demand for the capacity to provide accurate electrical discharge machining as well as a flexible skill base.
Using conventional machining techniques, each time the process was changed the machine's hardware (ICs, power supply, etc.) had to be switched. This took time and cost money, which did not please customers.
So, after some thought, the development team at Sodick proposed a method that involved changing the software instead of the hardware. This in fact signified the development of EDMs with "NC Units", which allowed machining to be numerically controlled.


But because no one had developed NC units for EDMs, the only way was for Sodick to develop them in-house.
For a company so newly established, this development was really putting the future of Sodick at stake, but spurred by their commitment to always respond to the needs of their customers, they put their reservations aside and forged ahead.

As a result, in December 1976, Sodick delivered the world's first NC die-sinker EDM equipped with a microcomputer. In March of the following year, they completed the GPC Series power supply units for NC die-sinker EDMs, which laid the foundations for the expansion of the business.