History of Sodick
Part 2: Rapid Growth Phase to Overseas Expansion Phase
Rising Overseas Demand - Construction of the First Overseas Plant in Thailand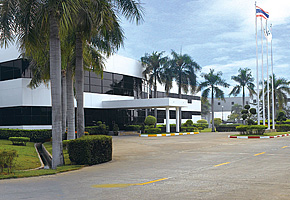 Thailand Plant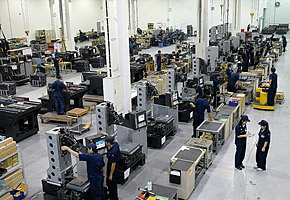 Production line

Sodick's commitment to developing high-tech products that address the needs of its customers led to a gradual rise in overseas demand.
By 1986, Sodick's product export rate had increased to around 30%.
But at around the same time, Japan was hit by a rapid rise in the value of the yen as a result of the Plaza Accord, with the yen exchange rate going from around 250 yen to the dollar to around 150 yen to the dollar. This was a major blow to Sodick's export growth.

This, coupled with the fact that Sodick's two domestic plants (Fukui and Saga) were unable to keep up with demand, led the company to consider building an offshore production facility. They visited several countries in Asia before settling on Thailand as the most suitable option due to its convenience and its national characteristics. However, there were many in the company who opposed the idea due to concerns over parts procurement and the maintenance of product quality.
But Sodick founder Toshihiko Furukawa decided that establishing an offshore mass-production system was the best way to address the company's needs for future growth and to fulfill his vision for how the company should progress, and so the plans for a plant in Thailand went ahead.


Sodick (Thailand) Co., Ltd was established in November 1988 as a 50/50 joint venture with Japan ASEAN Investment Co., Ltd. (currently Japan Asia Investment Co., Ltd.). Two years later in July 1990, the Thailand Plant was completed as Sodick's first overseas production facility. The new plant was furnished with equipment to allow almost all the components to be manufactured as they would be by Sodick in Japan, including the most advanced automation and integrated production facilities equivalent to those used in Japan.

Thanks to the single-minded and consistent hard work of its employees, the Thailand Plant grew to become a robust production facility capable of taking on everything from designing new EDMs through to final production. Within 15 years of being established, the plant was employing more than 1,000 workers. In 2011, the plant was inundated by floodwaters but was fully restored afterwards. And in February 2013, a second plant was built a few kilometers away on higher ground.
The Thailand Plant is now Sodick's main production facility, accounting for around 40% of sales with monthly production in the order of 200 units (as of 2015).