Kaga Factory

Outline
The Kaga Factory was built in 1987 as a FMS (Flexible Manufacturing System) manufacturing factory and a manufacturing center for the Hokuriku region.
The Kaga Factory consolidates many different injection molding related departments and divisions such as the injection molding machine manufacturing department, design department, R&D, manufacturing technology department and molding technique training center and by performing all processes in one place, from design to parts machining, assembly and finished product inspection, we are able to maintain high quality with less lead time and quickly respond to the needs of an ever-changing market.
In addition to injection molding machines, the Kaga Factory also manufactures magnesium alloy injection molding machines, linear motors, linear motor drivers, CNC units, electron beam machines and food machines.
Profile
Kaga Factory
Address / Tel
Ka-1-1, Miya-machi, Kaga City, Ishikawa, 922-0595 Japan
TEL:+81-761-75-2000
Production item
Land size
98,800 m2
(Approximately 992,000 m2, total floor area approximately 331,000 m2)
Milestones
| | |
| --- | --- |
| March 1987 | Established |
| February 2006 | ISO14001 : Acquired |
| February 2003 | ISO9001 : Acquired EDM (wire-cut, die-sinker) only |
| December 2011 | ISO22000 : Acquired (Food Chain Category J : Vacuum Mixer, Noodle-sheet Conveyor, Compound Noodle Pressing Machine, Continuous Noodle Pressing Machine with Slitter, Noodle Making Machine with Continuous Noodle Slitter, Fully Automatic Noodle Boiling Machine) |
| February 2014 | Construction Business License (Ishikawa Prefectural Governor's License): Acquired under leadership of Food Processing Machinery Division |
Factory inside view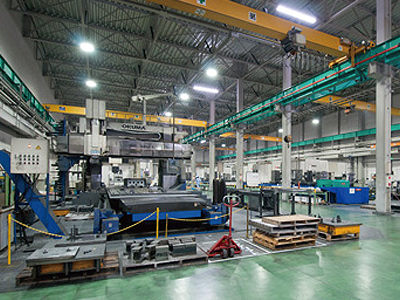 Machining area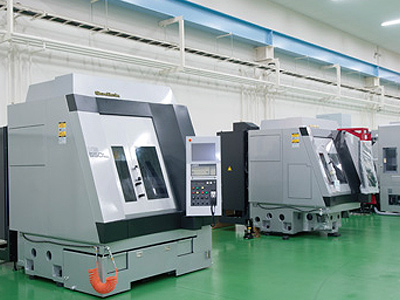 Machining centers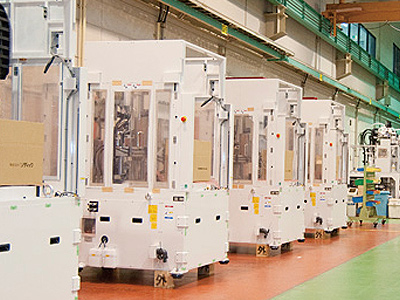 Injection molding machines ready for shipment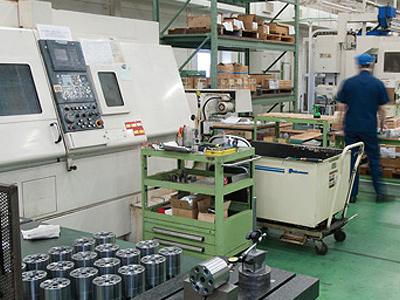 Component manufacturing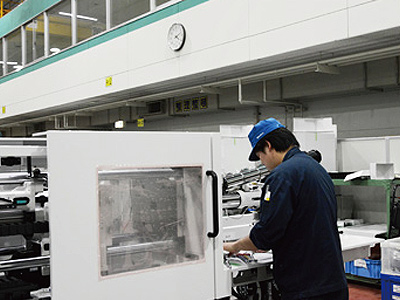 Assembly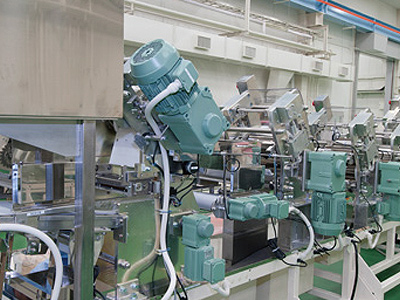 Food machines
About Ishikawa pref.
The terrain stretches from north to south, with an area of about 4,185 square kilometers.
Total population 1,166,656 (as of October 1, 2009).
Kanazawa City is the prefectural capital and Government administration agencies, bank and corporate branches are located here. This City serves as a major hub for the three prefectures of Hokuriku.
The City also is easily accessible to all three of Japan's major cities of Tokyo, Osaka and Nagoya.
As represented by the Noto Peninsula Quasi-National Park, Echizen-Kaga Coastal Quasi-National Park and Hakusan National Park, with mountains covered in beautiful vegetation and expressive coastlines and rivers, Ishikawa Prefecture is blessed with one of the most beautiful natural landscapes in Japan. There are also many natural hot springs to refresh your body and soul.

Ishikawa Prefecture is also known for Kaga Hyakumangoku culture, which flourished during the Edo Period (1603-1867) and the flourish thrives even to this day.
This area escaped destruction during the Pacific War and historically has suffered very few natural disasters such as earthquakes, and many precious, beautiful cultural assets such as Kenrokuen, one of the three great gardens in Japan. Old townscapes have been preserved and traditional crafts and traditional cultures have been passed down from generation to generation.
Kanazawa
Kanazawa prospered as the Kaga Clan's Maeda Family's castle town and traditional crafts such as Kaga Yuzen, Kanazawa foils and Kutaniyaki and traditional performance arts such as Noh and Kaga Manzai continues to be passed on.
The 5th lord of the Maeda Family, Tsunanori Maeda invited famous scholars and collected valuable books from all over Japan to promote education and Kaga received praise as the "Library of Japan".
Many valuable cultural assets from the feudal period still remain because this area escaped destruction from war and natural disasters.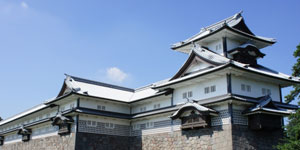 Kanazawa castle
Kaga City (Kagaonsen Hot Spring Area)
On October 1, 2005, Kaga City and Yamanaka merged and formed into the "new Kaga City".
Home of the three famous hot springs in the Hokuriku region, Yamashiro Onsen, Katayamazu Onsen and Yamanaka Onsen, Kaga City is a city made up of three distinct regions, Daishoji, Hashitate and Iburibashi.
During its long history as a flourishing castle town, culture and traditions developed and you can still feel their presence in the air today.
Hot spring hopping, touring historical sites, relishing abundant seafood from the Sea of Japan, sake tasting…the streets of Kaga City offer plenty for all.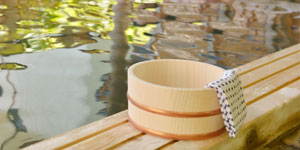 Komatsu Airport
Domestic
Komatsu -Tokyo (Haneda) (11 round trip flights / day)
Komatsu – Sapporo (1 round-trip flight / day)
Komatsu – Fukuoka (2 round trip flights / day) 
Komatsu – Sendai (1 round-trip flight / day)
Komatsu – Naha (1 round trip flight / day) 
Komatsu – Narita (2 round-trip flights / day)
Overseas
Komatsu – Seoul (4 round trip flights / week)
Komatsu – Shanghai (4 round trip flights / week)
Komatsu – Taipei (2 round trip flights / week)
International Cargo Komatsu – Luxembourg (3 round trip flights / week)
Very few cancellations of flights due to snow.
Frequency of flights varies depending on the season.