Fukui Office

Outline
This factory was built in 1980 as a manufacturing center in the Hokuriku area on the Japan seaside.
Starting with manufacturing, this factory has various departments, such as Design, Research & Development, Manufacturing engineering, Training center, Application, Measurement room, Purchase department, etc. These different departments at the same site help to shorten the lead time from designing to testing the completed machines to meet with the rapidly changing industrial society. The production line is arranged in the buildings and designed not to be affected by external temperature change, such as solar temperature rise or winter coldness, which is suitable for manufacturing high-end machines.
Besides EDMs, this factory also has manufacturing facilities for High Speed Milling and a stockyard for KHS consumables.
Profile
Contact
Fukui Office
Address / Tel
78, Nagaya, Sakai-cho, Sakai city, Fukui Pref. 919-0598, Japan
TEL:+81-776-66-8877
Land size
23,000 m2
Milestones
| | |
| --- | --- |
| June 1980 | Established |
| October 1997 | ISO9002 : Acquired |
| February 2003 | ISO9001 : Acquired EDM (wire-cut, die-sinker) only |
| December 2006 | ISO14001: Acquired |
Factory inside view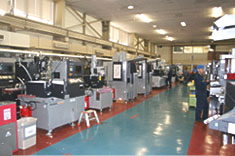 Production line
Application room
About Fukui pref
This area has a long history, which originally grew as a castle city about 400 years ago, and is well known for farming (famous for delicious rice "Koshihikari"), tourism and of course industry, with some tourist spots. In the North direction is "Toujinbo" facing to the sea (10 minutes drive from the Sodick factory. In the Southeast direction is KAGA Hot Spring Resort" area ("Kaga Hot spring", "Awazu Hot spring", "Yamashiro Hot Spring" and "Yamanaka Hot Spring"), and also "The Eihei Temple" as well as textiles, China wares and spectacles frame, which are famous nationwide in Japan.
The history of "Awara Hot Spring"
It is situated 10 minutes away from the factory by car. This hot spring was discovered when a man was drilling a well for irrigation to the paddy field in 1883 and hot water of 80 degrees celsius flowed out. The next year some hotels started the business utilizing this mineral water. In 1912 the train service started inviting many visitors to enjoy bathing in this healthy mineral hot water, resulting in being a famous "hot spring resort area".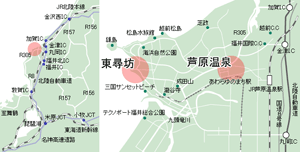 The history of "Eiheiji temple"
This temple was built in 1244 by the famous monk, Dogen Zenji, and also is a headquarters for "Japan Soto-shu", one of the major Japanese Zen sects. The temple site has a little over 70 buildings with many unaccountable tries of 700 years old in very quiet and cozy 330,000m2 precincts (about 30 minutes from the Sodick factory by car). This Soto-shu (the largest Zen sect in Japan) is an extension of the Chinese caodong, which was brought about to Japan by Dogen Zenji (1200 – 1253), and became known as the Soto school. It plays an important role in the minds of many people in North America and Europe as well.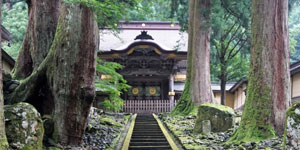 Eiheiji temple
Maruoka Castle
This oldest donjon among many castles in Japan, is situated 15 minutes by car from the Sodick factory, originally built in 1576 by Mr. Katsutoyo Shibata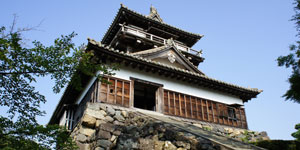 Maruoka Castle