Thailand Plant

Outline
The Thailand Plant was established in 1988 as the main manufacturing force for the Sodick Group.
From machine casting to manufacturing and all the way to final inspection, this plant is a total manufacturing plant which also manufactures important key components such as linear motors, printed circuit boards and ceramic parts.
With a design department that uses 3D CAD and a precision assembly department with approximately 50 technicians, we have combined the best technology with mature skills to achieve high accuracy and high quality.
Through continuous R&D efforts, production of new products, and new functions our Thai employees have acquired skill and knowledge and have an outstanding level of skill at the Thailand Plant.
In order to ship out the best products made by the best manufacturing system in line with the Sodick policy of "Create, Implement and Overcome Difficulties", our Japanese employees work together with the Thai workforce every day.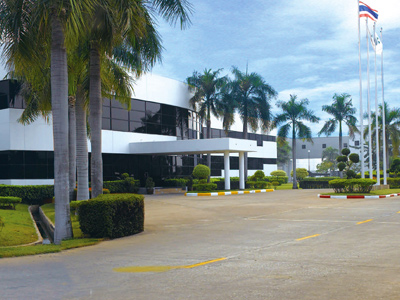 Side view of main entrance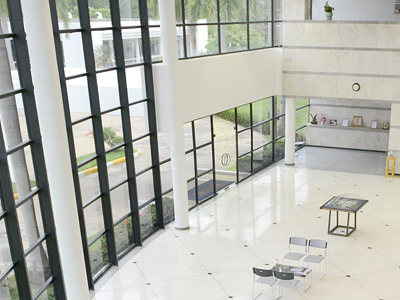 Lobby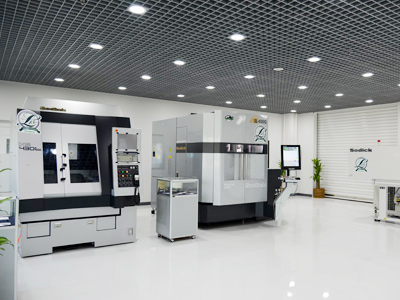 Show room
Profile
Sodick (Thailand) Co., Ltd.
Address /
Tel・Fax
60/84 Moo 19, Soi 19, Navanakorn Industrial Estate Zone 3, Phaholyothin Road., Klongneung, Klongluang, Pathumthani 12120, Thailand
TEL:+662-529-2450~6 / Fax:+662-529-2459
Number of employees
About 1,500
Land size
160,000 m2
Production item
Milestones
| | |
| --- | --- |
| November 1988 | Established |
| August 1997 | ISO9002 : Acquired |
| August 2001 | ISO9001 : Acquired |
| January 2003 | 10,000 units completed |
| January 2006 | ISO14001 : Acquired |
| February 2013 | Second factory built |
| 2016 | 30,000 units completed |
Factory inside view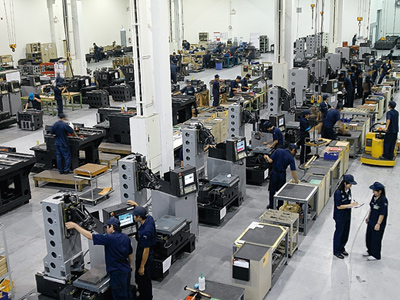 Production line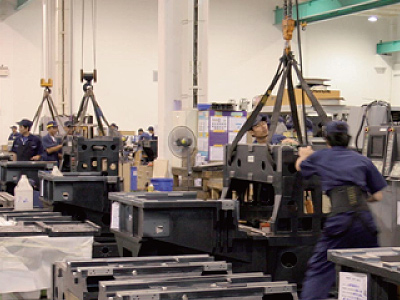 Assembly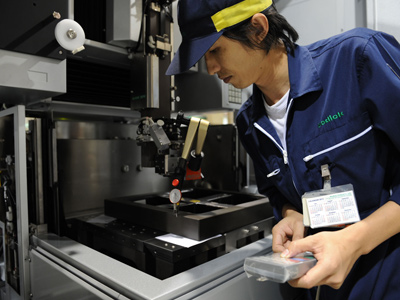 Adjustment inspection
Voices from the staff in Thailand
A fulfilling experience every day with over 1,000 employees in a giant factory.
Hisanori Tanabe (4 years in Thailand)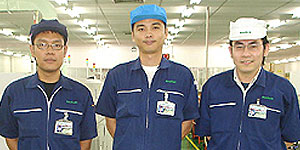 The person in the middle is him.
Sodick Thailand is located in an industrial park approximately 50km north from Bangkok.
Among a row of major Japanese corporations, our plant is an imposing plant with over 1,000 employees.

From linear motors, ceramics, sheet metal, to machining, resistance, transformers, circuit boards and wire harnesses, we do almost everything in-house.
When one of our customers visited our plant and saw how our workers dedicate themselves every day to improving their skills to produce the Sodick machines, they reflexively commented, "They mean business!"
This is also a place where the Japanese staff and the Thai staff work together to design new machines.
That is how amazing our Thailand Plant is. 

We, the Japanese staff, will work hard and stop at nothing to support our Thai staff. I am in charge of circuit boards and wire harnesses.
The special circuit boards and special wire harnesses used in Sodick machines have different specifications depending on the machine. We make various things in small quantities so there is so much to do every day; however, we work together to improve our production efficiency.
The work is challenging but we are full of energy and every day feels like a new day.

The Thai staff are all very friendly, invites me for dinner, always concerned when I'm faced with a problem. Small talk like, "Hey are you married?" or "That's a nice watch." When I compare the people here to the people of Japan, I am amazed at how sincere they are and it's no wonder Thailand is called "The Land of Smiles" are what you see here everyday. But I wonder why every time I return to Japan, they ask me over and over again to bring them something back from Japan…I believe they like Japan so much!

We also have annual company trips, Sports Day and year-end parties. Company trips with the Thai people let us know various sides of them than going on trips without them and it's always great to spend time with them. On Sports Day, I look forward to the performance of the cheerleading team. Once a guy dressed up like a woman and it was hilarious. Everything goes so it's a lot of fun.

At the end of the year, we all get together for the year-end party and we drink, dance and talk with the Thai staff and deepen our relationship.
My experience here at Sodick Thailand is a valuable experience I will cherish forever.
About Thailand
Thailand is roughly 1.4 times the size of Japan, and almost at the center of the Indochina peninsula it is located at north latitude 5゜ - 21゜, and longitude: 97゜ - 106゜. It is bordered to the north and west by Myanmar (Burma), to the northeast by Laos, to the east by Cambodia and to the south by Malaysia. 10% of the total population of Thailand (approximately 67 million people) lives in Bangkok, which is the cultural, education, political and economic center of Thailand. There are historical architectural styled temples everywhere and tourists visit from all over the world.