In the Media
In the Media
Hoden ni Kaketa Yume


(Dream Dedicated to the Electric Discharge Machine)
- 30 years of Sodick history -

Author: Toshihiko Furukawa
March 2005 / Nikkan Kogyo Shimbunsha

Sodick founder Toshihiko Furukawa (currently honorary chair) describes the 30 year history of Sodick, which has been continuing to develop products from its inception to this day based on the philosophy of "thinking together with customers and providing goods useful to customers."
The book may be read as a reference work on the history of electric discharge processing as well as a management textbook for venture corporations.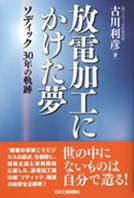 Sekai ni Katsu
Monozukuri

(World-Winning

Monozukuri

)
Declaration of Mold Japan Brand

Author: Etsujiro Yokota
March 2005 / Nikkan Kogyo Shimbunsha

Our company's AP1L electrical discharge machine is introduced on page 21 of this book, under the EDM and Wire-cut EDM section.