Sodick's Creative Power
Total Manufacturing Solution
We support our customers find solutions for problems in every process of the "manufacturing".
Based on the Sodick Group business concept of providing a "Total Manufacturing Solution", we offer support for all manufacturing processes, from CAD/CAM-based product design, to mold and parts machining with electric discharge machines and high speed milling centers, polishing with the Electron Beam PIKA Finish Machine and molding with injection molding machines and press centers. By being able to offer total support for craft, we are able to collect new data and know-how from each process, allowing us to continue building systems where we can provide optimal solutions to our customers and respective manufacturing.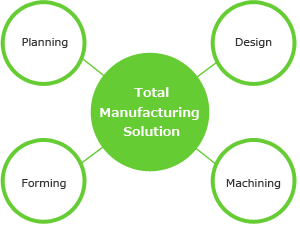 The Pursuit of Technology
Five core proprietary technologies developed to achieve the highest level of world's best standard's precision.
In order to have full control of the motors used in molding machines, the Sodick Group has been developing NC units since its establishment. This has enabled us to develop high performance linear motors. By integrating our proprietary Sodick Motion Controllers (SMC), ceramics technology and electrical discharge power unit into those two technologies, we have succeeded in developing ultra-precision molding machines capable of nano level machining.
For more information, see Sodick's Technological Strengths section.
Commitment to Excellent Quality
Always pursuing monozukuri with the customer's perspective in mind.
The Sodick Group uses the optimal locations and methods for development and manufacturing so that the integrated end-to-end manufacturing process ("monozukuri") we use is rooted in the customer's perspective. By combining primary components with internally developed technologies—for example, iron casting for machine structures, ceramic parts, NC units, and linear motors—we provide top-performing products for a reasonable price without ever compromising on quality.
A quality control system delivering uniform quality worldwide
To provide value to society by creating products that customers around the world can use with peace of mind and will want to use again, Sodick in all of its locations worldwide engages "Quality Victory Plan" (QVP+) efforts intended to transform and improve our operations. This plan serves as a quality promotion system from a Total Quality Management (TQM) perspective, and is grounded in the guidelines for the entire company on quality, environmental concerns, and safety from our president.
It is a system for promoting quality that translates our customers' delight into the quality of products, sales efforts, and services; for improving the quality of the operations that lay the foundation for product quality; and for encouraging that work to take root as an undertaking pursued by every single Sodick employee.
Additionally, Sodick aims to strengthen horizontal collaboration globally by establishing PQLs (Product Quality Leaders) responsible for product quality at each site/process to maintain global collaborations.
We are committed to be perfectionists when it comes to quality with a thoroughgoing system whose guiding principle is ensuring the quality of our products is uniform around the world, so that our customers worldwide can use our products with full peace of mind.
For more information, see Sodick's Production Location which is providing identical quality worldwide.
Targeting the 5 Top Markets in the World
Advancing the globalization of production and sales facilities to support manufacturing endeavors throughout the world.
The Sodick Group's business plan has always had global markets in mind and we have grown to become a corporate group with a strong presence in the global market. Today, we have divided the markets into five separate regions: Japan, China, Asia (excluding China), the US and Europe, and are building Asia to establishing R&D in the US, the leading country in information technology. We are promoting strategies focused on the characteristics of each area and are focusing our efforts on building a network that will allow us to quickly adapt to changes in each market.