Production Planning
At the production planning phase, plans for manufacturing based on careful analysis of intelligence from sales operations are forged, with the aim of conceiving products that are likely to meet wide-ranging consumer needs. The Thailand Factory, which originally functioned mainly as a manufacturing facility, opened an engineering center in 2004 to facilitate the planning process. Current operations bring Japanese nationals in engineering departments together with Thai engineers in jointly taking on challenges starting with design.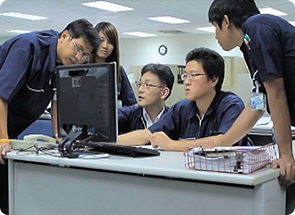 Parts Procurement
20,000 or more components go into making a single wire-cut EDM unit. The parts for such machines are neatly stacked in different areas of the factory after having been sourced mainly from Thailand, as well as from Japan, Shanghai, Hong Kong, Taiwan, Europe, U.S., and other parts of the world. To track those components, each of the staff is assigned an identification code. Some members have even committed quite a few of those codes to memory.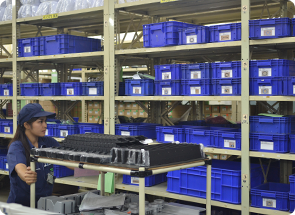 Manufacturing & Machining
Printed circuit board (PCB) production line

The PCB production line manufactures circuit boards that are ultimately used in power supplies and other components of Sodick's EDM units. Some of the boards end up being used in machines made within this factory, while others are exported to Sodick operations in Japan and China. We perform rigorous testing of printed circuit boards to ensure high quality standards.
Wire harness production line



Here wire harness is assembled by binding wires and cables together. Workers on wire harness production line bundle cables together to make wiring assemblies using a harness board which acts as a wiring template. One distinguishing feature of this particular line is that it is staffed by many female employees.
Power supply production line

On this production line we manufacture numerical control (NC) unit power supplies. The production process first involves making each of the units, and then placing those assemblies in power supply housing. Once completed, some of the power supplies are shipped off to Sodick's factories in China.
Linear motor production line

The linear motors manufactured on this production line are used in our products made in the Thailand Plants and in factories in Japan. Sodick has amassed a wealth of knowledge on everything from design to production of linear motors optimized for use in a variety of machines.
Sheet metal fabrication line

On sheet metal fabrication line, we cut and bend sheet metal for assembly into components.
Our female employees also play an active role as welders in our welding area, where sparks fly as operations drawing on a combination of human capabilities and automated robots ensue.
Machining line

Processes on the machining line include processing cast metal and fabricating machine parts for use in our EDM units. Whereas machining and other processes performed on this line rely on multiple pieces of heavy machinery including machining centers, work in this area still calls for extreme precision in contrast to the dynamism of the massive equipment. As such, we carefully check components produced here before they become part of our EDM units.
Coating production line



On this production line, powder coatings are applied to sheet metal objects and urethane paints to cast-metal objects.
We take steps to improve product finishes so that our components maintain shine and radiance long after coatings have been applied. With sheet metal objects this entails roughly 30-minutes of processing involving treatment of metal surfaces, and with cast metal objects this entails cleaning with thinners.
Ceramic components production line

Ceramic parts are essential to EDMs, and are used extensively in such units. This production line manufactures top-quality ceramic parts designed to persistently perform up to Sodick product standards.
Making ceramic parts through calcination and other process takes at least two months.
Assembly, Inspection & Quality Control
This stage starts with pre-assembly where we perform Sodick's kisage (scraping) process, a technique that we proudly stand by. More specifically, the kisage process involves filing down metal surfaces of components to eliminate all surface irregularities at points of contact. This requires expert skill and a level of accuracy not even possible with the latest precision machine tools equipped with numerical control (NC) functionality. The pre-assembly phase is deemed complete once the surfaces have been sufficiently prepared.

After pre-assembly, we install power supplies and individual component parts. Here, we disassemble and then reassemble units as many times as necessary whenever machine performance falls outside the scope of specified ranges of precision. We stand beside our customers in making sure that our products perform as they should.


Product Shipment
Once the EDM units are completed thanks to the efforts of countless employees, we vacuum pack them in aluminum packaging materials infused with rust- and moisture-proofing agents. The units are then sent off on a journey to our worldwide customers in Europe, Asia, the U.S., and Japan, where they play a vital role in conveying our commitment to the Sodick slogan, "creating a future."