Interview with Mark Picasso, Software Manager [2]


Maintained close ties with Japan during development.
Finally, the new software was born.

I heard that you visited Japan several times for the "Sm-ART" project.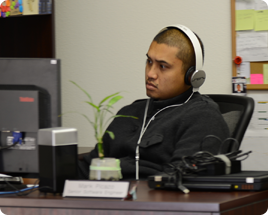 Yes, I did. The first time was in 2008. I went to Sodick Head Office for a design review, where I explained "Sm-ART" to members in the company. "Sm-ART" was totally new trial software, so I was not confident whether or not I would gain an understanding. But I'm happy to say it was finally accepted.
Then, I visited the Fukui Plant at the start of 2011. In this visit, I explained about how to use the "Sm-ART" to the people who would actually use the software.
Did "Sm-ART" benefit from you being in Silicon Valley?
Yes, definitely. "Sm-ART" uses an application development framework called "Qt".
A conference on it is held every year in San Francisco and I always attend to gather information.
In addition, most companies developing new technologies are located in this neighborhood, so when something is available, I can visit their offices to take a look. This really makes it easy to incorporate new technologies into our developments, when necessary.
When do you feel that your job is worthwhile?
When a really hard development is safely released in a new product that I can see in pamphlets and posters, I feel "It's really done!" and that I have been rewarded for my hard work. Needless to say, it is also exciting when a product related to my development is sold around the world.
Using his own creativity to manufacture
for the next generation.
What are the most memorable experiences you have had working at Sodick?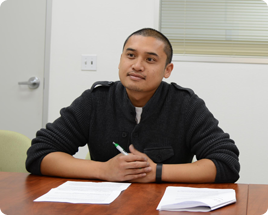 I would say it is my visits to Japan. It was very interesting to meet the people at Sodick in Japan. Communicating with them during the "Sm-ART" design review and meetings to explain its operation made me very aware of their enthusiasm for their work. I often think of the people I met and the places I visited working here in the U.S. Plus, I have always been interested in Japan, so it was also a great opportunity to ride the Shinkansen bullet train and visit Yokohama Landmark Tower, Asakusa, and Shinjuku in my free time.
What about the atmosphere in the workplace and the working environment in Sodick America?
Sodick America may be a company, but we're not too big in size so we have not only working relationships but we are like friends in a family-like, relaxed environment. It is a work-friendly environment where we can work to our full potential. Of course there is pressure to meet work deadlines. With our way of working, we just get told a rough direction, instead of receiving detailed orders. That means I have to use my creativity, which makes me happy and fully motivated.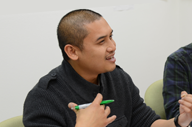 Mark talked slowly and clearly, with the occasional laugh. He is a lively and amiable person. On his days off, he visits the zoo, aquarium, and museums with his family, including two children aged 6 and a half and 3 years old. Best of all, they love visiting Disneyland. It was striking when he told us his first answer for our question on difficulties he faced in completion of the "Sm-ART" project. The very first answer of him was not being able to have enough time to see his family since he was very busy at that time - it made us realize another personal side of Mark.