Interview with Tatsuo Toyonaga Center Director [3]


Returned to Japan and tackled product development
in a new division.

Why did you come back to Japan?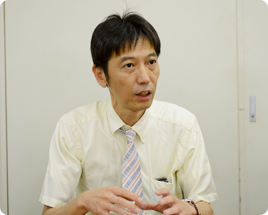 At Sodick Head Office First of all, I only planned to work at Sodick America for two years. However, after two years had passed and before we shipped the products incorporating the first-generation motion controller to customers, I wanted to start work on the next-generation motion controller and didn't go home.
As a result, I worked for 11 years until the "M4LINK" had been developed and we decided to go back to Japan in 2011 after having discussions about moving with my family living in America.
Tell us about the work you did when you got back.
When I started working after getting back to Japan, I was a little confused because of the systems that had been instigated for various tasks. But I've got used to it now and I am handling my day-today work. I mainly communicated with a few of the departments when I lived in America. So when I got back, I got the feeling that not many people doesn't really know what Sodick America does.
Then you were appointed Center Director of the Advanced Research Center. What do you do there?
The Advanced Research Center is located in the Kaga Plant and Yokohama Head Office. Sodick comprises four divisions (Food Processing Machinery Division, Injection Molding Machinery Division, Machining Center Division, and Electrical Discharge Machinery Division). We work on new products unique to these divisions and products that straddle across divisions.
What sort of developments are you thinking of for the future?
And please tell us about both product development across divisions and the development of new products.
Developments that straddle across divisions at the moment involve trying to install the M4LINK NC unit used in SL series wire-cut electrical discharge machines and some machining centers into all Sodick products, including injection molding machines. If we succeed, economies of scale should lead to all machines being cheaper and result in more efficient development by using the same development environment.
Regarding the development of new products, we are planning to try actively introducing semiconductor-related technologies to improve the integration of printed circuit boards, increase performance, and reduce costs.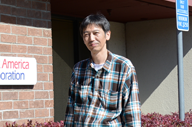 Mr. Toyonaga incorporated linear motors in Sodick machines and developed Sodick's motion controllers. Working at the forefront of development, he is one of the people who created Sodick's cutting-edge technologies. Although our technical discussion continued for a while and it should have been difficult, it was striking that Mr. Toyonaga made it easy to understand.
Mr. Toyonaga said that when he lived in America, he usually played with his children and took it easy on his days off. His comment revealed a caring father side of him as well.