Interview with Tatsuo Toyonaga Center Director [2]


The first machine featuring linear motors was released in 1998.
He worked toward the development of Sodick motion controllers and NC units.

Then, as a member of the motion controller development team, your life in America began. How was the development base built?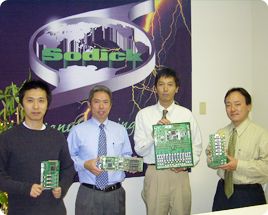 Initial members when company was established Actually, it was the first time Sodick had opened a development base in the U.S. We located the base in San Jose, without any know-how or connection to call on. I initially planned to stay there two years while we completed our own motion controller and I moved to San Jose. There were four of us from Japan in the office, including me. One of us was Yuji Kaneko, who is now President and Representative Director of Sodick.
Did San Jose have a good influence of the development?
When you actually live in San Jose and start gathering information, there is a load of leading-edge information nearby. So, yes, it had an extremely beneficial effect. A lot of seminars and trade shows are held there and the advantage of being able to hire excellent engineers who assemble there from around the world are offered too.
The first product was released in 2003. I heard that the Sodick motion controller was developed by a very small team of people.
Tell us about the problems you faced.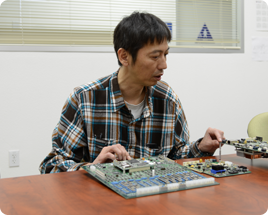 When the company was established, just four or five people handled the development of both hardware and software.
I was the only Japanese working on hardware development.
I stayed there for 11 years until the development of the "M4LINK" NC is complete but working with such a small number of people was really hard. On one hand, information sharing is easy between a small number of people and we could work by trial and error on hardware and software together. We didn't get our thoughts out of balance, which was a good thing.
What developments did you succeed in?
When we first installed the motion controller in a Sodick machining center and operated it, the response of the X-axis and Y-axis machining components was modest. At the time Sodick America finished the development work it did alone, but there was still a lot of room for improvement in both functionality and performance. After that, we spent about one year incorporating the evaluation results in-house to eliminate waste in the hardware and software and gradually improve the functionality and performance.
Was the fact that Sodick is a machine tool manufacturer an advantage?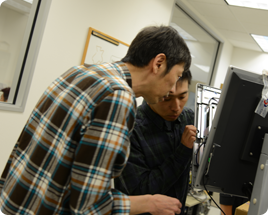 Both our software and hardware departments worked on development through repeated trial and error. Yes, it was. It was great that we could get professionals to evaluate machining and operation after the motion controller we developed was installed in a machining center and electrical discharge machine and receive feedback as it comes in.
Even when we hit a wall in terms of functions or cost, we were able to find a way to improvement. When creating your own products in-house, having professionals in the company to help find a way forward is a great advantage.