Sodick's Strength
Working from a customer centric point of view, Sodick group develops and manufactures products using the most appropriate environment and methods for manufacturing and creating the future. By combining our original in-house technologies to major parts such as iron casting for machine structures, ceramics parts, NC units, linear motors, etc. through our unique quality control system which ensures quality that are never compromised, we are able to consistently provide the highest performance products at appropriate prices.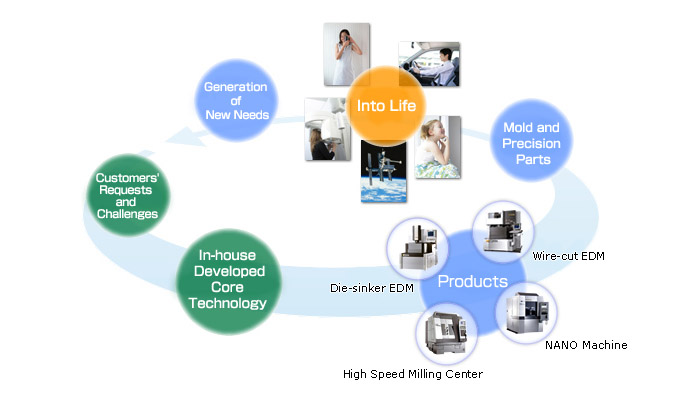 Core Technology
Sodick group has continued self-development of NC units that can freely control machine models since its foundation. By doing so, we have achieved a level at which we can develop high-performance linear motors in-house. By fusing the two technologies with self-developed Sodick motion controllers (SMC), ceramic technology, electrical discharge power units, and programmable logic controllers (PLC), we have successfully developed ultra-precise nano machines.

For more details, refer to Sodick's Technology page.
Research and Development System
Sodick group has been promoting R&D focusing on the characteristics of each area from a global perspective from early on. With Japan as the base, we have been engaged in research and development for the electric discharge related technologies and developing precision machining technologies for the base of machines In the R&D field, in 1991 Sodick founded Shanghai Sodick Software Co., Ltd. in Shanghai, China and in 2000 founded Sodick America Corporation in Silicon Valley, a hub of high-tech businesses in the United States. In collaboration with related R&D departments in Japan, we are researching the latest value control systems.

For more information, refer to the Research & Development System page.
Production System
Sodick group has built facilities overseas in order to pursue excellent products in terms of cost and quality, in addition to its plants in Japan. Using the most suitable plant, Sodick manufactures products for a broad range of industries, including machine tools and industrial machinery.

For more information, Sodick's Creative Power page and Production Location page.