R&D system

Development using trilateral system promoted by Sodick
At the Sodick group, the Japanese business unit acts as the heart of the group in developing products such as EDMs, machining center, and injection molding machines designed to improve product performance and quality. From early on, the Japanese business unit has been working from a global point of view to promote R&D practices that focus on the characteristics of each geographical region. In the R& field, in 1991 Sodick founded Shanghai Sodick Software Co., Ltd. in Shanghai, China and in 2000 founded Sodick America Corporation in Silicon Valley, a hub of high-tech businesses.
In collaboration with related R& departments in Japan, we are developing the latest NC unit with trilateral system.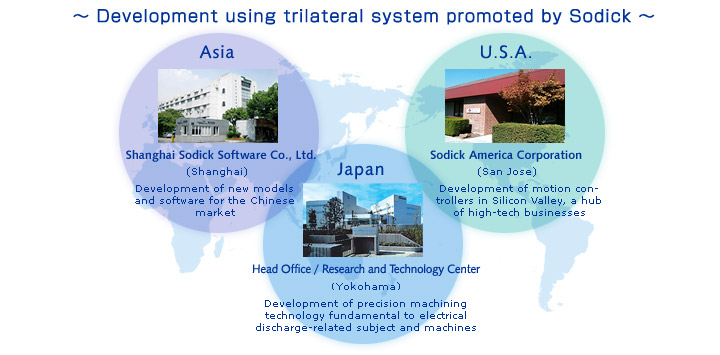 Advanced Research Center
At the Advanced Research Center, which is Japan's R&D division, we are researching advanced next generation software and hardware technology. Advanced technologies developed within this center enable each R&D division to improve the competitiveness of all Sodick products.