Core Technology 08

Hybrid System

The Best of Both Worlds - The Hybrid System
Sodick's molding machines use hydraulics for injection/plasticization and electric motors to open-close the mold and to release the product.
Hydraulics have high output and high response and are therefore perfect for quick injection of plastics into the mold and applying strong clamping force onto the mold. The electric motor has superior position control with the benefit of speed control.
Sodick's molding machines uses the Hybrid System, which effectively utilizes these drive sources.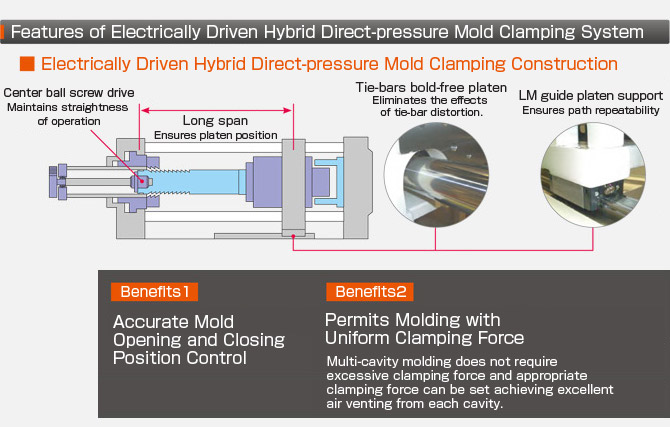 The Evolution of Injection Control and Performance - Ultra-Precision Connector High Speed 0.03/sec Fill up
V-LINE®machines have achieved harmony in injection conditions and actual fill. In other words, these machines respond to the operator without fail.
Injection molding machines using the hybrid system are optimized by using both electric and hydraulic drives. Hydraulics with low inertia and high output are used for injection.
Fill pressure due to the viscosity of resins needs to be handled as analog. Analog controllers are available, however the need to be able to handle various molding products and demand for transparency of molding data has forced digitization and there is a need for technology that enables :old-school style" handling via digital control.
Sodick has a history of developing an injection controller (IJC), which specializes in old-school style control. Sodick also focuses on developing hydraulic servo valves and has accumulated proprietary know-how of specifications for spool design and amplifier functions.
For example, with a low profile connector mounted on the circuit board of a mobile device, residual stress causes warping, resulting in poor yield rates.
It was understood that shortening the fill time reduces warping, however, it was difficult to speed up the fill time on conventional injection molding machines due to the inconsistent amount of backflow at the start of fill up, therefore mass production was not possible.
With the arrival of V-LINE® Injection Molding Machines equipped for fast speed fills, mass production has been stabilized and realized.
Electric Open-Close System with Simultaneous Operation Capabilities
In addition to the Direct Pressure Mold Clamping System, an electric motor is used to open-close the mold (Some VRE machines use hydraulic cylinders to open-close molds).
When closing the mold, simultaneous operations with the ejection portion are possible and can be easily systemized with peripheral devices, including the removing apparatuses.