Sodick's Growth Potential
Creation of New Markets
The customers of Sodick group spans a wide range of industries, including automobiles, consumer electronics, semiconductors, precision equipment, optical equipment, and LCD related fields. In these industries, our products are primarily used as machines for mold making.
Recently, however, our products are also being used in high value-added production processing of high value-added products, which do not involve molds, for the medical, biotechnology, and aviation/aerospace fields. To respond to such wide range of users and diversified needs, our group polishes our unique technologies to further expand our product lineup.
Globalization of sales bases/development bases
To enhance our sales and maintenance services, at the central base in each area we have opened Technical Center showrooms that can present machines and products comprehensively for each business. These showrooms provide an opportunity for customers to actually look at products for business transactions, but we also provide technical consultation as well. In 1991 Sodick founded Shanghai Sodick Software Co., Ltd. in Shanghai, China and in 2000 founded Sodick America Corporation in Silicon Valley, a hub of high-tech businesses. In collaboration with related R&D departments in Japan, we are researching the latest value control systems, which serve as the brain of machine tools and industrial machinery.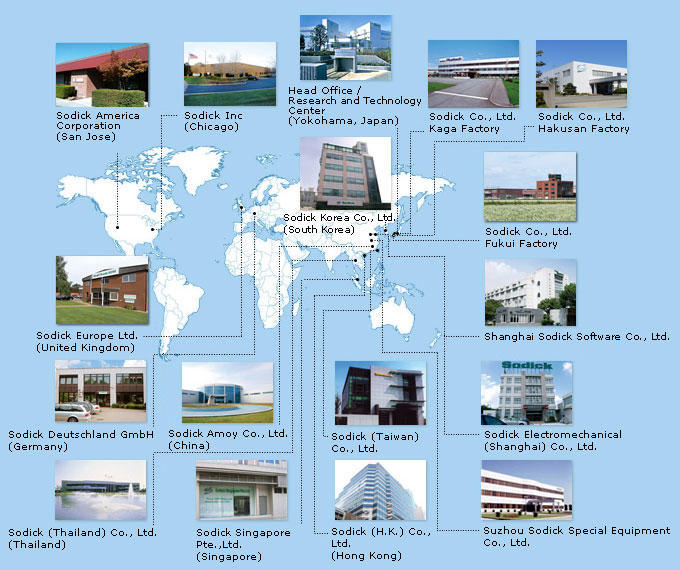 Development in emerging markets
In addition to its presence in Japan, Europe and the US, the Sodick group is also active in newly developing countries. In China, which is the flag bearer for the world's newly developing countries, Sodick has aggressively been rolling out products since the early 90s. As the Chinese economy has been growing, Sodick group has been made great strides. For the sales and service network in that region, Sodick has established 20 sales and service bases across entire China, including Taiwan. Through those enhanced networks, Sodick can provide detailed services so that customers can use our machines with confidence. In future, we will also focus on new markets including India and Brazil to further contribute to skilled manufacturing around the globe.
Sodick's market development in Asia