President's Message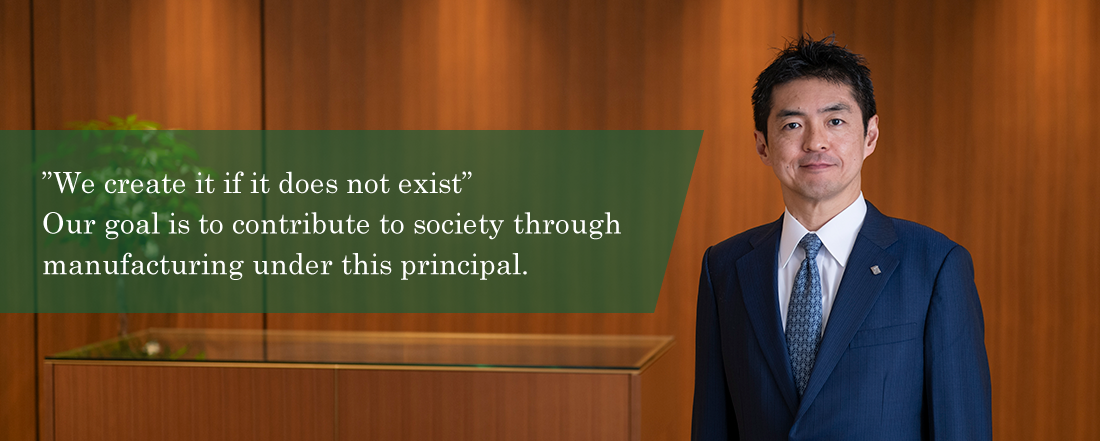 Thank you for visiting our website.
Sodick is a pioneering manufacture of numerical control (NC) electrical discharge machines. Since our founding, we have moved forward with Japanese technological innovation and have been proactive in developing "monozukuri".
We would like to explain our mid- and long-term policy and priority measures for the sustainable growth in the future.
Medium to Long-term Policies and Priority Measures
With respect to the machine tool segment, we will strive to expand our market share by accurately determining worldwide demand for precision machinery, including that in the newly emerging markets where advances in the sophistication of manufacturing are being seen, and offering products with an understanding of market needs. Even though metal 3D printers are still in the market creation phase, they represent an innovative technology with the possibility to shorten lead times for manufacturing dies, cut production costs, and shorten the molding cycle. As such, we are confident that this product can be expected to demonstrate growth over the medium to long-term. We aspire to be the top company in the field of precision metal printers by means of further promoting R&D on subjects like improving molding speed and rounding out our lineup of metal powders.

As for the industrial machinery segment, we are strengthening sales of our fully electric injection molding machines, for which there is a great need, in order to boost our domestic market share for injection molding machines to 10%. In addition to our entry-level models, we are also rounding out our lineup of small and medium-sized machines to consolidate our position in the market for fully electric injection molding machines. What is more, demand is anticipated for our aluminum injection molding machines from business replacing their die-cast machines, with the expectation being that this will open up potential markets for things like auto parts (where lighter weight is always in demand) and IT device parts. As for overseas, we are aiming to expand our unit sales in the high-precision molding sector where we hold a competitive advantage, such as for things like smartphone lenses and silicon molding machines, in order to attain an overseas sales ratio of 70% or greater.

With our food processing machinery segment, we foresee continued demand for equipment designed with the goal of manufacturing higher quality noodles, primarily for domestic convenience stores, supermarkets, and restaurant chains. From overseas, we foresee demand for equipment to manufacture noodles with a long shelf life and frozen noodles. What is more, we are starting to cater to needs from outside the noodle manufacturing industry, such as precooked rice packages and prepackaged side dishes, as well as the confection industry, and are cultivating our food processing machine business as a mainstay of this for the future.

At present, orders received for EDMs and injection molding machines remain strong, with our backlog of orders on the rise. To eliminate opportunity loss due to the increase in the number of units ordered, and we are working to augment our factory's production capacity in order to meet the deadlines and demand from our customers. For our Thailand Factory in particular, we plan to expand the No. 2 Factory in order to substantially enhance its production capacity. What is more, we are making progress on rebuilding our production structures for around the world in order to meet the increased demand from overseas.
Aiming for Sustainable Growth
In order for companies to continue to grow in a sustainable manner, they must continue to contribute to their stakeholders through their business activities.

As a research and development-based company, we at Sodick have adopted the managerial philosophy of contributing to the development of society by providing superlative products to support the manufacturing performed by our customers. We feel that it is only by putting this philosophy into practice that we are able to grow sustainably and lead to boosting corporate value over the medium to long-term.

Traditionally, we have carried out management based around the criteria of our Managerial Philosophy and our Charter of Corporate Ethics and Corporate Code of Conduct. But based on the increasingly sophisticated and diverse expectations placed on us by society, in addition to fulfilling our corporate social responsibility (CSR) we have launched a CSR Promotion Committee in order to promote CSR activities in a cross-cutting manner.

We also strive to further enhance our initiatives for the environment, society, and governance, while also boosting our corporate value.
In Conclusion
Under the principle that "We create things if they do not exist in the world" we strive to further improve our technologies, promote their applied development to new product groups, and contribute to society through manufacturing.

Moving forward, we will continue to act on our company motto of "Create (So)," "Implement (di)," and "Overcome difficulties (ck)," from which our company name is taken. In addition to further strengthening our corporate governance, we will promote diversity in management and other efforts to produce diverse innovations, thereby aiming for stable and continuous development. As such, we would like to ask for your ongoing understanding, support, and patronage in this.