CSR
CSR Initiatives
Initiatives for the Environment
Promoting Efforts to Make the Most of Human Resources
CSR Initiatives
Thinking behind Our Corporate Social Responsibility (CSR)
Based on our founding spirit of "Create, Implement, and Overcome difficulties," the Sodick Group has adopted the management principle of contributing to the advancement of society by providing superior products and supporting the manufacturing of our customers. In order to achieve this, we work to address wide-ranging activities for CSR rooted in the practice of sincere business activities in line with the Sodick Group Action Guidelines for Corporate Ethics and Standards for Corporate Behavior (Compliance Guidelines). We feel that the most important elements for this are complying with laws and social norms, as well as constantly engaging in management that is transparent and easy to understand for all of our stakeholders, including each and every one of our shareholders, investors, customers, and employees.
List of ESG Issues and Initiatives
Item

Main initiatives

Actual activities

Environment
Developing environmentally-friendly products

Promoting environmentally-friendly products Tsubame Wire Plus, Eco-Ion R, Eco Filter SHF-25R
Developing environmentally-friendly products CIP Fully Automatic Noodle Boiling Machine, etc.

Green procurement

Promoting green procurement

Climate change countermeasures (reducing CO2)

Installing solar power at Head Office and Sodick F.T's Miyazaki Office

Social
Promoting diversity

Encouraging women in the workforce (taking maternity/childcare leave and being reinstated afterwards)
Optimizing global human resources
Hiring disabled workers
Hiring senior citizens (introduction of 65-year-old retirement age and reemployment system)

Creating a comfortable workplace environment

Encouraging employees to take paid vacation
Reducing overtime hours
Promoting a working hours reduction scheme
Initiatives for safety, sanitation, and disaster prevention
Introducing EAP (Employee Assistance Program) services
Comprehensive benefits packages

Nurturing human resources

HR training systems (from new hires to young employees)
Accepting foreign national technical interns
Implementing manager training

Contributing to local communities

Social and cultural activities

Corporate Governance
Strengthening corporate governance

Establishing corporate governance structures
Strengthening internal controls and risk management
Strengthening management oversight functions

Revising the compensation system

Improving the transparency of management
Holding dialogue with stakeholders

CSR Promotion Structure and Initiatives for Disseminating CSR Activities Internally
Sodick established our CSR Promotion Committee, which is chaired by the president / representative director, in the March 2017 fiscal year. The CSR Promotion Committee is led by the management division at the head office, and systematically promotes CSR activities by setting targets related to CSR centered around important themes like compliance, contribution to social, fostering human resources, quality control, and the environment, and by going through the PDCA cycle. This is designed to promote CSR activities in a systematic manner through the combined efforts of the entire company.

Now in the December 2018 fiscal year, which marks the second year since its launch, the committee has implemented specific measures to enhance things like information disclosures and dialog with stakeholders in response to existing challenges for CSR activities, based on which it has examined specific measures to further enhance these in the future.

Moving forward, the committee will continue to plan review sessions in aiming to revitalize and enhance CSR activities, while also working to inform all employees of this and promoting initiatives for disseminating such activities internally.
Overview of Our CSR Promotion Structure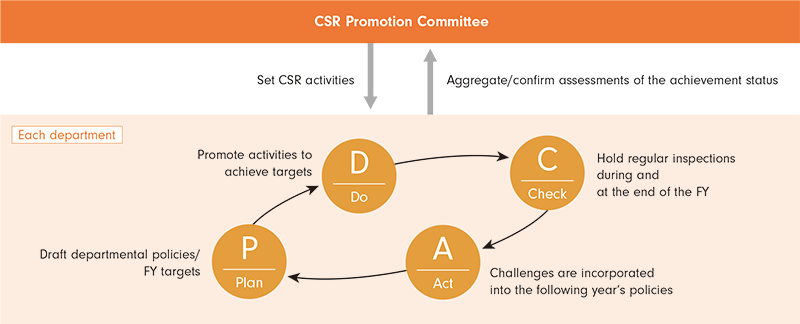 Structural Diagram

Initiatives for the Environment
The Hokuriku region where Sodick has a production base is a place where traditional culture lives in symbiosis with beautiful natural surroundings. In our work of developing and manufacturing so many products in this well-favored region, we have come to see that treating the natural environment with care is a practice that leads to richness in the lives of the people in itself.
Sodick's Policies and Structures
At present, Sodick has set in place an Environmental Policy and has acquired ISO 14001 certification for its Kaga Office and Fukui Office, as well as for all of its sales offices throughout Japan. To continue making improvements in terms of our environmental impact, every year we reassess our Environmental Policy and enact particular topical issues and objectives for it. At the QVP+ Global Presentation Event* held annually by the Quality Assurance Department, representatives from each department and group company detail the results and items meriting reassessment from the previous fiscal year in regard to the environment, as well as quality and safety. They also declare their respective unit's targets for the new fiscal year and share their courses of action. This is connected to continuous improvements that also take medium- and long-term targets into account.
QVP+ Global Presentation Event: "QVP" stands for Quality Victory Plan." This annual event is for the various departments to look for ways to make improvements in the areas of quality, the environment, and safety in keeping with the policies and targets set down by the president.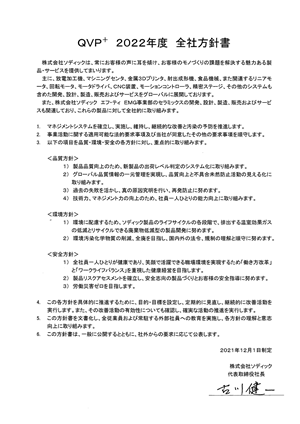 Structure for Promoting Environmental Concerns
Sodick has created a structure for promoting environmental concerns around the three core pillars of quality, the environment, and safety.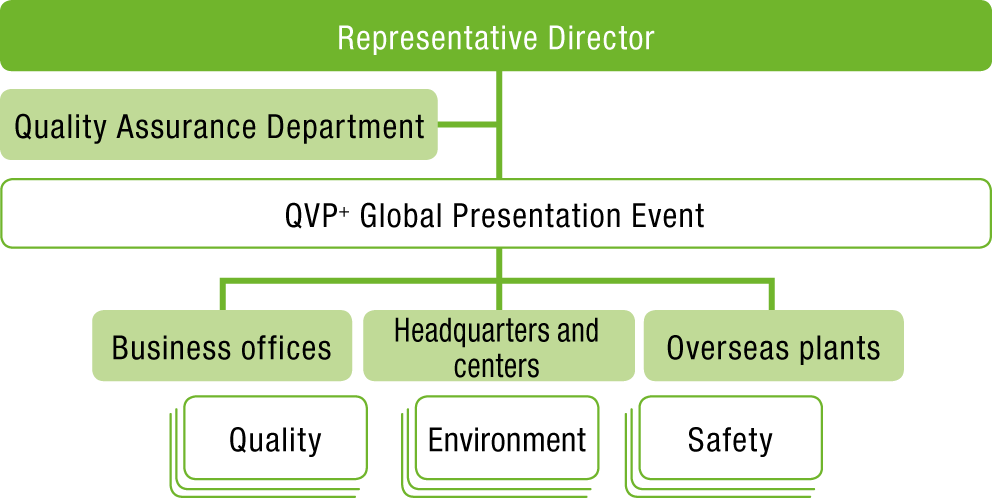 CO2 reduction initiatives to tackle climate change
Amid rising global concern surrounding social issues centered on the climate and energy, the Paris Agreement, in which countries came together to mitigate global warming, and the SDGs set out by the UN, are drawing growing attention. In Japan, compliance with the energy conservation law will be required by 2030, and Sodick is setting its sights on the use of natural energy. Solar power systems have been installed on rooftops at our Head Office and at the Miyazaki Office of Sodick F.T. The solar cells at Head Office have a capacity of 49.88 kW, while those at the Miyazaki Office operate at 800 kW.
In our offices, initiatives are being promoted to reduce CO2, including effective use of the "Cool Biz" energy-saving campaign (cooler business attire to cut down on air conditioning usage) and teleconference systems. The introduction of teleconference systems at our domestic offices and overseas subsidiaries reduces travel for meetings and business discussions, thereby helping to reduce energy consumption.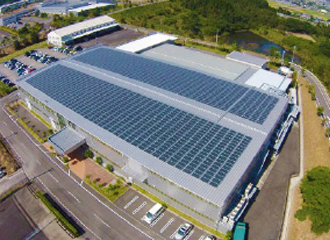 The rooftop solar power array
at the Sodick F.T Miyazaki Office
CO2 Emissions at Sodik Business Sites in Japan
| | FY2014 | FY2015 | FY2016 | FY2017 | FY2018 |
| --- | --- | --- | --- | --- | --- |
| CO2emissions (t) | 9,923 | 7,227 | 8,543 | 6,583 | 8,831 |
Crude Oil Equivalent at Sodik Business Sites in Japan
| | FY2014 | FY2015 | FY2016 | FY2017 | FY2018 |
| --- | --- | --- | --- | --- | --- |
| Crude oil equivalent (kl) | 3,180 | 2,969 | 3,440 | 2,650 | 3,529 |
Promoting Green Procurement
In May 2000, the Japanese government enacted the Act on Promoting Green Purchasing. This law was established to actively promote green procurement based on the perspective that demand-side initiatives were of equal importance to supply-side initiatives when it comes to forming a recycling-oriented society. It encourages procurement with a priority on goods that have a small environmental impact while still bearing in mind the unique features of a given business, the strength and durability required, the preservation of functionality, and cost considerations.

Our Green Procurement Standards took effect in November 2017, and prescribe selection criteria for suppliers and the items procured. These criteria also clarified the activities and surveys needed in order to fulfill our Green Procurement Standards. Additionally, we carried out a survey on our suppliers covering locations within Japan and overseas. We have also established a structure that is capable of handling situations such as earthquakes and data falsification by manufacturers.

In conjunction with this, Sodick is creating its own ERP-linked harmful chemical substances control system (SHCSCS). This enables the Company to systematically identify and control whether our products contain harmful chemical substances. The Procurement Division, General Affairs Department, and Quality Assurance Department will be working hand-in-hand to thoroughly investigate whether any materials that we newly purchase in the future contain harmful substances.
Activities and surveys needed in order to fulfill our green standards
Distributing copies of the Green Procurement Standards
Distributing lists of hazardous chemicals
Distributing and collecting survey sheets (survey request response forms for chemicals that impact the environment (certificates attesting that such chemicals are not used))
Distributing and collecting evaluation sheets related to environmental conservation
Distributing and collecting certificates attesting that designated chemical substances are not contained in products
Distributing and collecting utilization reviews concerning regulations on disclosing conflict minerals
Distributing tables of exemptions to the RoHS2 directives
Collecting Safety Data Sheets (SDS)
Promoting Environmentally-Friendly Products
Sodick is actively working to come up with products that are environmentally-friendly.

We have been making every effort to reduce waste by offering such ecofriendly or recyclable products as the Tsubame Wire Plus, the world's first product adapted to used-wire recovery systems; the Eco- Ion R, whose construction permits the main component to be washed, its functions restored, and the unit to be reused; and the Eco Filter SHF-25R recyclable filter.

What is more, Sodick works to develop environmentally-friendly products. The CIP fully automated noodle boiling machine from our Food Processing Machinery Division offers improved cleaning performance over that of conventional machines, which boiled water using indirect piping, because in this device steam is pumped directly across the bottom of the tub used for boiling to heat the water and bring it to a boil. Furthermore, the device can reduce the amount of water supplied and discharged by reusing the water discharged from the tub to resupply it. In addition, employing a waste heat recovery system that reuses the boiling water made it possible to greatly reduce the amount of steam used. Reducing the amount of steam contributes to both energy conservation outcomes and reducing CO2 emissions.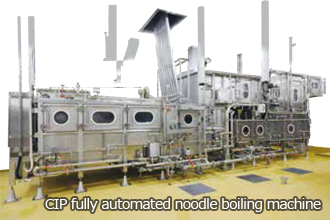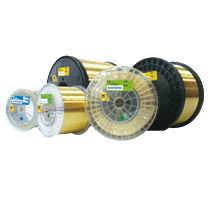 The world's first product in this area adapted to used-wire recycling systems.
Built using high-quality and high-precision production processes to offer superior straightness and an extremely smooth sur face qualit y. It fully elicits machining performance that is highly reliable.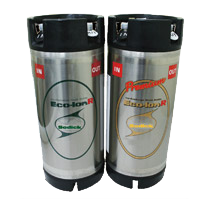 Suited for long-term machining with its extended operating life. Its 18-L capacity is approximately twice that of conventional types. The "canister" itself is replaceable, so there is no need to do the work of refilling the resin. The product is environmentally friendly.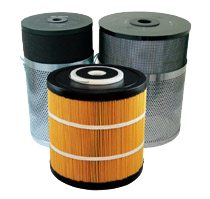 Inherited the performance of our extended life SHF-25E model. Its operating life is approximately twice that of conventional products (compared with Sodick's HF-25A). Type of filter with a structure that allows for disassembly (filter paper and outer frame). Depending on the rental contract, the product can be put into the distribution cycle and collected.
Promoting Efforts to Make the Most of Human Resources
Since our founding, Sodick has expanded its businesses under the motto of "Create," "Implement," and "Overcome Difficulties." The very mettle and ability to take action that each and every one of our employees possesses provides the backbone for this endeavor. All of our employees - not only technical staff, but also sales and management-maintain a high level of motivation at their respective stages in the process and are actively engaged in their work as specialists.

The diversity of our workforce, with employees offering different perspectives and values, is conducive to further globalizing our business. Based on this thinking, Sodick is promoting efforts to employ a wide-ranging workforce that includes foreigners, the disabled, and senior citizens. Furthermore, we are also working hard to create an environment in which women can continue to flourish even after they marry and have children.
Promoting Diversity
Hiring Senior Citizens
In April 2013, the government enacted the Revised Act on Stabilization of Employment of Elderly Persons. The law's objective is to create environments in which senior citizens can continue to work based on their desires and abilities, at the very least until they have reached the age at which they qualify to receive their pensions.
Starting on April 1, 2018, we uniformly set the retirement age as the first March 31 after the employee's 65th birthday, and also introduced our Senior Program which allows workers to select a diverse array of work styles at the age of sixty. After workers turned sixty, we limit factors like working hours, the number of work days, the content of work, and work locations in response to various changing circumstances for the employees, thus setting in place an environment in which they can work with peace of mind. We are striving to revitalize our organization by achieving dual-track career courses by giving consideration to extending the retirement age, career planning for each individual employee, and our company's strategy for human resources in a comprehensive manner.
Encouraging Women in the Workforce
Sodick is striving to create an environment that allows our employees to balance work with child-rearing. We want to ensure that they can take maternity or childcare leave and then return to their previous departments and positions. As a result of our initiatives, women are actively taking maternity and childcare leave, with a 100% return-to-work ratio in the past five years. We are also encouraging male employees to take childcare leave and they are gradually becoming more aware of this opportunity: last fiscal year, four men took leave.

Sodick has drawn up an action plan to enable female employees to shine in a variety of fields, and the percentage of female new hires between 2015 and 2018 was 23.0%. We will continue working hard to promote women in the workforce, while supporting all our employees in achieving their own work-life balance.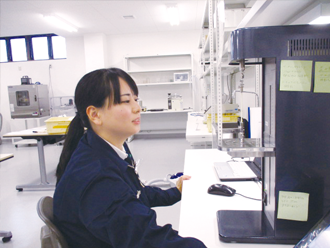 A female employee engaged in research
Making the Most of Global Human Resources
Sodick was quick to adopt a global perspective in developing its business. More than 70% of its employees are currently working overseas, and the company has also actively sought out non-Japanese hires. Having foreign employees will be absolutely indispensable for our efforts to further globalize our business in the future.
Understanding their perspectives and thinking is extremely important when it comes to understanding the unique characteristics of each part of the world. This is also conducive to promoting the strategies pursued at our overseas sites and in developing and strengthening our marketing networks. We are also striving to hire locally for executive positions at our overseas sites as part of our overall goal of making good use of global human resources. Women are also serving as presidents at some of these overseas locations.
We are also working hard to increase the number of global human resources.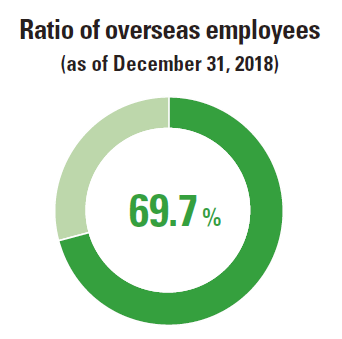 Hiring Disabled Workers
Kibi NC Training Center Corp., in which Sodick holds an investment stake, is an enterprise that uses the latest machine tools to conduct skills-development training for the physically disabled with the goal of helping them to become socially independent. Sodick itself is also making efforts to actively hire disabled persons and create an environment that broadly promotes such hiring goals in order to provide them with stability. We are also working on improvements to the work environment, such as installing a dedicated parking lot for disabled workers at our Kaga Office and making our multi-factory barrier-free.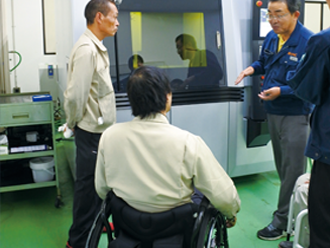 Since Kibi NC's founding,
81 trainees have completed the course
and are now playing active roles
at worksites around the country
Creating a Comfortable Workplace Environment
The organization of the workplace environment is closely connected to improving awareness among employees regarding their jobs. At Sodick, we are working to achieve a workplace environment where all employees can stay highly motivated and work with peace of mind. Maintaining a favorable workplace environment serves to keep new hire retention rates high and create a foundation that makes it easy to nurture superior human resources.

We are also focusing our energies on creating an employee training system to help individual employees further develop their abilities. Through employee training in a variety of fields and nurturing a global workforce via overseas training for new hires, our aim is for employees to acquire the know-how and skills to serve as driving forces for the company in the future. Furthermore, Sodick has also adopted stratified training methods in which trainees are broken up into groups based on their number of years of service and type of position, as well as internet-based e-learning for employee education and corporate training.
Encouraging Employees to Take Paid Leave
Sodick has designated specific days as days on which we encourage employees to use their paid leave, and we actively encourage them to take days off. Doing so creates a virtuous cycle, as they are refreshed from taking a break and thus tackle their work with renewed motivation.
Reducing Overtime Work
Sodick is actively taking steps to reduce overtime work.
Once a certain number of hours of overtime is exceeded in a given month, the individual concerned and their manager are alerted by email. This has resulted in reducing the number of overtime working hours.
Encouraging Employees to Take Childcare Leave
Sodick's Action Plan on Promoting Measures to Support the Development of the Next Generation aims for at least one male employee and at least 90% of female employees to take childcare leave. We are working to increase the rate of uptake by making employees aware of the scheme via our Intranet and through a consultation desk.
We are also considering the introduction of remote working, and are aiming for even more employees to take childcare leave.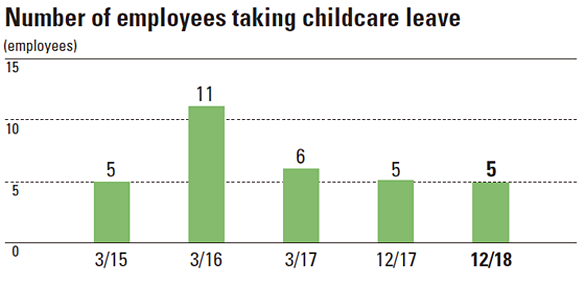 Promotion of Reduced Working Hours Scheme
Sodick has adopted a reduced working hours scheme to enable employees to undertake childcare or nursing care. This allows employees to alter their working hours as needed. In recent years, a number of employees have taken advantage of this scheme, and we continue to make it available.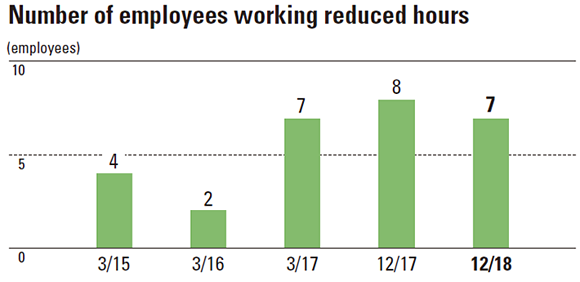 Renewal of Office Area
In 2018, we renovated our office area, including refurbishing the work area on the third floor of Head Office (Technical Training Center), and completing a new R&D building at Head Office and the Kaga multi-factory. We hope to increase our employees' motivation by providing them with a new office environment.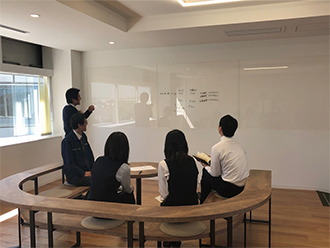 Refurbished work area on the third floor of Head Office
Initiatives for Safety, Sanitation, and Disaster Prevention
Ensuring that the employees who underpin the company stay healthy in mind and body and can work in an energetic manner is a crucial factor when it comes to the company's growth. Creating a management structure and providing safety and sanitation training that conform to the Industrial Safety and Health Act protects our employees from dangers and health impairments in the course of their work, and also prevents occupational injuries. The company is focusing its efforts on initiatives for not only the physical, but also mental wellbeing of our employees, and is working to create follow-through structures to prevent mental and physical disorders from arising.
Sodick has also adopted a Compliance Helpline (whistle-blowing system) with the objective of preventing and rapidly responding to wrongdoing or unethical behavior perpetrated by employees or corporate officers. We have also set up and operate internal and external points of contact for addressing such matters.
Educational Activities on Safe Driving
Sodick aims to achieve zero road accidents among our sales and service personnel. All Company-owned vehicles are equipped with driving recorders so that the causes of accidents can be ascertained and used to prevent future accidents. We also provide educational activities on safe driving, including inviting local police officers to give traffic safety seminars, and each month the number of accidents is notified throughout the Company.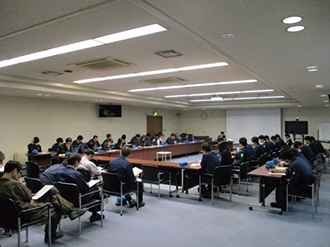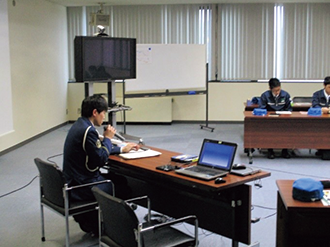 Traffic safety seminar
Introduction of EAP Service
Sodick adopts the Employee Assistance Program in order to practice health management. We have established contact points not only within the Company, but also outside the Company including with medical specialists and lawyers, in order for employees to receive consultations about their mental and physical health, harassment, and other topics. Through this, we have established a structure where people can receive care before things get out of hand as we focus on setting in place a work environment where employees can work with peace of mind.
We have also set up similar contact points for overseas representatives and their families, and make every effort to ensure that they can adapt comfortably to life overseas.
Well-Rounded Benefits Packages
Sodick makes efforts to fully round out our benefits packages and relevant facilities so that our employees can attend to their duties without worrying about their daily lives or health.

As part of this, the company offers financial incentives of 20% from its employee stock ownership association system, provides regular health examinations, and offers financial assistance for cancer examinations using positron emission tomography (PET), which is a treatment technique that has recently been much talked about, among other benefits.

Also, in terms of facilities for employees to refresh themselves, Sodick has resort houses in Yatsugatake and Miyazaki, and has concluded corporate contracts that allow for preferential treatment at designated theme parks and similar facilities. Club activities are also actively carried out, including clubs for tennis, marathon running, cycling, futsal, badminton, and golf, which are useful for stimulating interactions with employees from other departments.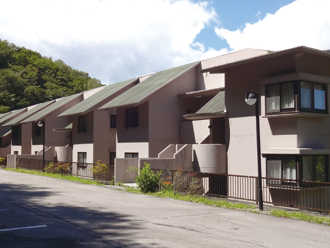 Nobeyama Resort Village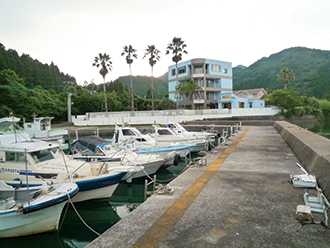 Miyazaki Training Center
Nurturing Human Resources
Training for New Hires
Sodick provides training for new hires at plants both in Japan and overseas. First, they learn about the operational flows in manufacturing, technology, and machining at the main Hokuriku plant and Miyazaki Office. Next, they increase their knowledge of Sodick's EDMs at the Thailand plant, working side-by-side with local employees. Here they can also gain a broad range of personal contacts, while dispelling any anxiety they may have about working overseas.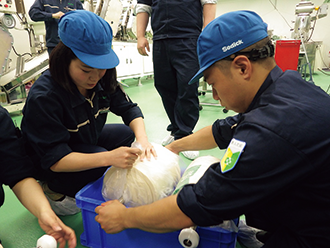 Training for new employees
Overseas Training System
We have also established an overseas training system for employees who work closely with our overseas affiliates.
This includes business and technical training at Sodick's overseas bases or at overseas education and research institutes. In 2018, two employees spent several months training, gaining hands-on business skills and interacting with local employees.
Manager Training
In drawing up our long-term vision to 2026, which will mark 50 years since Sodick's founding, training for our executive management was carried out over several months. The training identified and consolidated management issues and the measures adopted by each business segment through seminars given by external lecturers and regular group discussions. On the final day, presentations were made to the representative directors by four groups with their thoughts on the long-term vision, further deepening the training content.
Foreign National Technical Intern Program
Foreign national technical interns are welcomed from our Thailand and China plants in order to enhance their technical capabilities. In the fiscal year ended December 2018, four interns from Thailand and three from China learned about manufacturing technology at our Kaga and Fukui plants.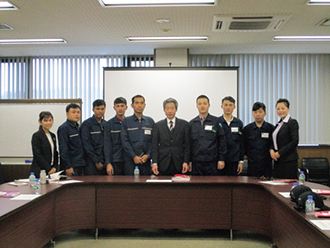 Trainees from overseas plants