CSR Initiatives
Basic Approach to CSR
Sodick Group's business philosophy is to contribute to the sustainable advancement of society by supplying outstanding products and supporting our customers' manufacturing operations. In order to achieve this, we strive to implement wide-ranging CSR activities, rooted in the practice of sincere business activities in line with the Sodick Group Action Guidelines for Corporate Ethics and Standards for Corporate Behavior (Compliance Guidelines). As well as complying with laws and social norms, we believe that the most important element in this is to conduct business in a consistently transparent and readily comprehensible manner, for all of our stakeholders including our shareholders and investors, customers, and employees.
Structure for Promotion of CSR
Sodick has established a CSR Promotion Committee, which is chaired by the President and Representative Director. The CSR Promotion Committee is led by the management division at Head Office. It systematically promotes CSR activities by setting CSR-related targets focused on important themes such as compliance, contribution to society, fostering human resources, quality control, and the environment, and by implementing the PDCA cycle. Its aim is to promote CSR activities in a systematic manner through the combined efforts of the entire company.

In the fiscal year ended December 2019, the Committee implemented specific measures to enhance areas including information disclosure and dialogue with our stakeholders, responding to the existing challenges for CSR activities. On this basis, it has examined specific measures to further enhance these areas in the future.
Moving forward, the Committee will continue to plan review sessions with the aim of revitalizing and enhancing CSR activities, while also working to keep all employees informed of this and promoting initiatives for disseminating such activities internally.
Overview of Our CSR Promotion Structure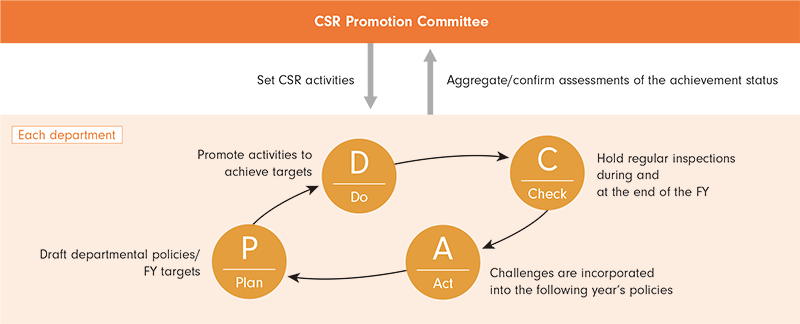 Structural Diagram