Where is this place?
A medieval European street scene awaits us after we disembark from our 10-hour flight from Japan.
In front is the Western architecture along stone-paved streets and then someone like me who lives in Japan notices that the streets are filled with European cars new to the eye.
Our trip starts with our arrival at Frankfurt Airport.
We then switched to an hour-long domestic flight that takes us to Hannover.
We could also opt for the "journey by window" and take the ICE but took the plane instead. (ICE stands for InterCity Express, a high-speed international rail service that is Germany's answer to Japan's bullet train.)
Hannover is filled with numerous interesting tourist sites that would be well-worth taking a few days to visit if you had the time, like the Renaissance marvel that is the New Town Hall and the geometric splendors of the Herrenhausen Gardens.
But we had several days of cloudy skies, leaving us wondering about why sunny sky doesn't greet us.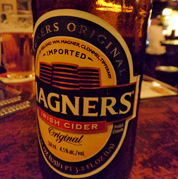 Germany, it seems, experiences many cloudy days in September as well as some sprinkling of rain.
In light of the apparent difficulties that making long trips would create, another of the pleasures of travel is to take it easy with some shopping in the department stores followed by sampling German beer in a bar.
For people who don't really like beer, I recommend the Irish cider made from fermented apples!
You get a fresh and crisp taste when you pour the cider over ice in a big glass.
The alcoholic content was about the same as that of beer, and the glass remains fresh in my memory.
It's something you can sample at one of those Irish bars that are a common sight in Germany.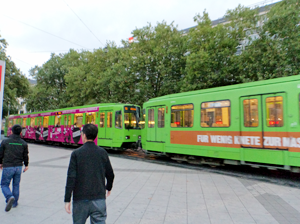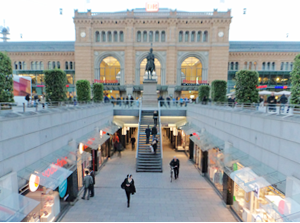 Deutsche Bahn's Hannover Main Station
Lively shopping street in front of the station
The high-speed InterCity Express train stops here.
30 minutes away by car from here in Hannover, there sits the world's largest exhibition center, Deutsche Messe.
To move around the site, there's a convenient bus service that takes you around from hall to hall and riding it gives you a real sense of how big this European machine tool exhibition is.
Once we take in the European approach to doing things and the buildings with their beautiful designs, we found EMO flags fly on the streets by the station and saw streets bustling with people.
Apparently, over 50,000 people have come from other countries to visit the EMO in Germany, about one-third of all the visitors to the trade show.
You get a sense of how lively the market economy is through the show and the information is jointly presented in Europe's four main languages.
Visitors from Switzerland, Sweden, Holland, and Russia are on hand. From Asia Chinese are on hand in the greatest numbers, followed by Japanese, Taiwanese, and Indians.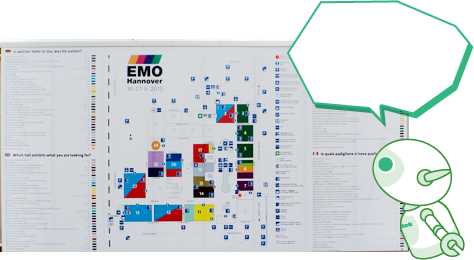 German, French, Italian, English…
four languages together!
Buildings that are fascinating to the eye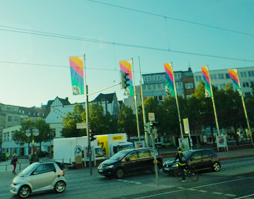 A street near the exhibition center. Many EMO flags flew overhead.

A collection of simple and sturdy buildings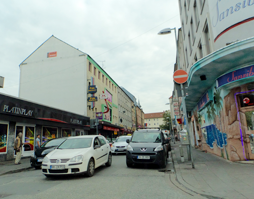 We also spotted some Japanese cars

Most of the exhibit halls are atrium style halls and
make ample use of glass that lets the light in.
German cars such as Audis and BMWs are plentiful. French makes like Citroens, Peugeots, and Renaults are also common.
From Italy, we spotted Alfa Romeos and Fiats too. Aside from these we also noticed Škodas and Volvos. As for Japanese makes, we frequently noticed Nissan Qashqais, Toyata Yarises (known as the Vitz in Japanese), and various Mazdas. Most of the tires naturally were from European manufacturers including Continental, Michelin, and Pirelli.