EMO is the perfect opportunity!
Introducing the world to Sodick's newest products.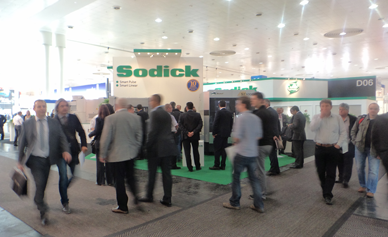 EMO is the perfect opportunity for introducing new products to the global market.
Alongside those from Italy, Spain, Portugal, and other European Union (EU) countries, we notice flags from such various other countries as Egypt and Russia.

Sodick exhibited machines produced at some of its production sites around the world—from its plants in Thailand to Japanese plants in Kaga and Fukui and Chinese plants in Suzhou and Xiamen (Amoy)—offering a uniform quality that was awarded the European "CE" logo for safety.


Our company debuted some new products featuring advanced technology developed in-house, including our eye-catching SLC series with its ease-of-use on par with smartphones.
The younger generation of engineers who have taken the lead around the world in developing new products was also on hand, working with local equipment operators to oversee processing demonstrations.
After everyone had checked to see all was in order, the only thing to do was to wait for the opening-day visitors.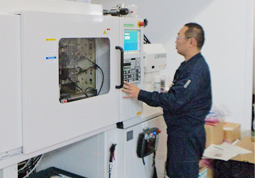 An applications engineer
who came from the Kaga Plant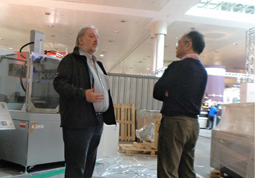 Sodick Germany President Norbert Kempf exchanging
information with a marketing center executive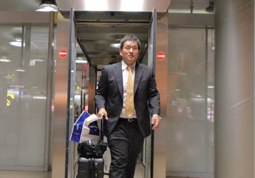 One of the young EDM design technicians from Japan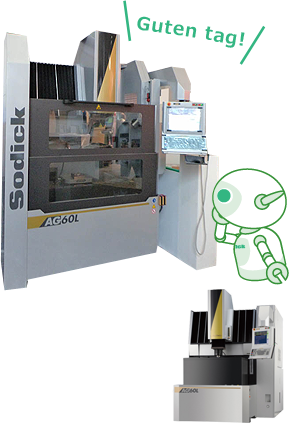 AG60L, of the same design
as the Japanese model
What's this?
This is a machine I've never seen in Japan・・・?
Yes, it is. But it still has the same AG60L model number that you see in Japan.

What's going on then?
This model incorporates design specifications to satisfy those required to obtain the European Union's CE mark.
What is the CE mark?
The CE marking basically is a logo that manufacturers are required to attach to products being sold in the EU to indicate that they are in compliance with essential safety requirements (ESRs for Essential Safety Requirements).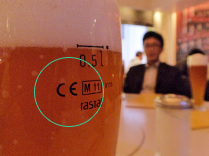 The CE mark is even on a glass of beer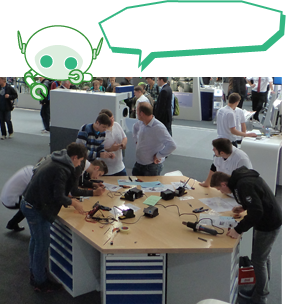 The engineers of
the future!
The chance to build a scale model of a sports car Full range of hands-on craftsmanship displays are available
EMO's halls also offer exhibits and demonstrations aimed at future engineers
Germany has a Meister certificate system for craftsmen.
The trade show has machine tools and measuring equipment that young engineers and university students can operate for themselves. In addition, with a program that includes technical displays, it provides a venue for getting first-hand experience with production technology.
Demos ranging widely from new products and high-end machines to injection molding machines
What will be the most effective way to use the machines that are going to be needed in the future?
What are the advantages to equipping them with "smart" interfaces, and how much will efficiency improve?
Bearing in mind the processes being talked about these days, we set up the Sodick booth so visitors could see them in action and that resulted in lively conversations taking people from one cutting edge product to the next.
Processing sample of large-scale AQ1200L in demand with EU aircraft manufacturers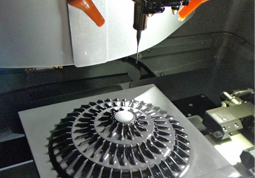 Processing demonstration of a TT1-400A built to manufacture graphite specifications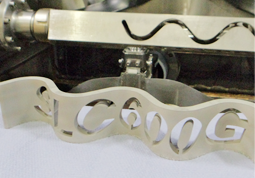 The new SLC600G, offering smartphone-like operability
A great exhibition depends on being able to start planning as soon as possible!
Usually, preparations for the EMO show begin more than a year in advance.
To pursue the success of the event, engineers research the specifications of machines across the European market for months and combine their findings with requests from sales in their designs.

Sodick Europe too bring its deep knowledge of the local market to its deliberations with the company's marketing center over the image projected by the booth.
Given that customer needs vary depending on region and country, the booth has offerings appropriate to the European market as well as visual elements that reflects the sales strategies of Sodick Japan.

Strict controls are in place leading up to the show for new products protected under a veil of secrecy, with only designated staff allowed to operate the equipment.
For this show, we provided a demonstration of Sodick's silicon-based injection molding technology.
The output is a mold for the balloon section of medical catheter. Work on coming up with the mold and the automation element (the device to produce the product) began more than one year earlier. The mold was produced after trial and error for six months, while the plans for automation came into place a scant two months before the exhibition. Finally, though, it was ready for display.
Everything from the installation of equipment to its demonstration was carried out with the help of a set group of staff that included specialists from Japan.

With its demonstration of molding for the medical components that are in great demand in Europe, the display attracted a great deal of attention from many people including not only customers but also industry peers.

The EMO Show 2013 exhibit was one taken in by many people, thanks to everyone from Sodick joining together to make it a success.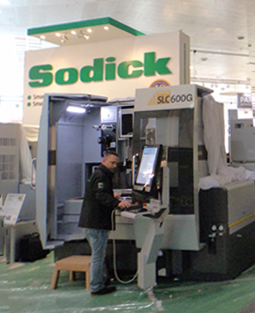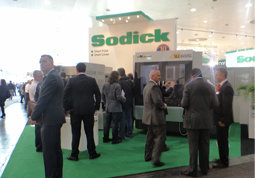 The booth was quite lively on the day
The very next thing to work for the upcoming EMO Show
EMO is an international trade show held every two years, with the next one slated to be held in Milan of Lombardy, Italy, in 2015.
Sodick worked hard to come up with a lot of plans that our visitors enjoyed at EMO 2013.
The company wrapped up the occasion with a party that lives on in memory, with everyone talking about what made the exhibit a success and plans for Milan.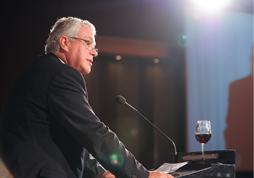 Peter Capp President, Sodick Europe Ltd.
Yes, of course--planning, in fact, has already begun for EMO 2015.
While the show may not be as fancy as those for automobiles or electronics, the event is like a mountain of jewels featuring the latest information for those of us who are party to the processes by which goods are crafted.
Even more challenging projects will be put into effect for the next time.

We will be creating a journey to EMO 2015 in Milan for all of you who read the Sodick web magazine.

We'll be waiting for you at the Sodick booth!