Rice Cooking, Cooked Rice Settling, Cooling Device
Good for Heat-sterilization for Long Life Noodle (LL), Chilled Noodle, Filled Tofu, and many other packaged food products.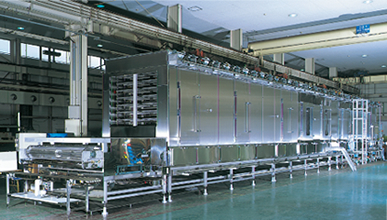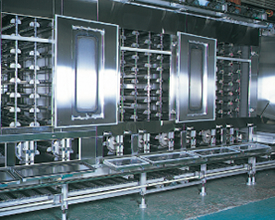 Main Features
(1)Space-saving Design with a gondola system.

(2)High thermal efficiency enables uniform and consistent sterilization by moving the noodle up and down by gondola system.

(3)Temperature Control can be done at entrance and exit of the heating, and compartment and three other locations inside.

(4)Counter-shaft drive works with a minimum loss of power, enabling use of small-capacity motor to drive the system (Motor: 2.2Kw).

(5)Totally Unmanned Operation is possible by incorporating an additional Automatic Load and Discharge device.

(6)The system goes into an immediate stop automatically by torque guard in case of trouble.
Product Specifications
| | |
| --- | --- |
| Model | SS-9000 |
| Capability | 9,000bags/Hr.200g~250g |
| Steam sterilization time | 35minutes 55℃→95℃ |
| Cooling time by air-flow | Approx. 20 minutes |
| Cooling time by chilled air-flow | Approx. 20 minutes |
| Material | SUS-304 |
| Heat-insulated panel | SUS-304・Urethane Foam Panel 20t |
| Weight | About 20t |
Other machines can be manufactured with different performance specifications.
External Dimensional Diagram